Under-19 ISL players not released for I-League's Indian Arrows: Luis Norton De Matos
Updated on Nov 21, 2017 08:13 PM IST
The Indian Arrows, comprising of India's FIFA U-17 World Cup players , is not a new experiment with the team comprising U-23 players playing in in three I-League seasons (2010-13). Team's coach Luis Norton De Matos wanted U-19 players, currently with ISL clubs, in the mix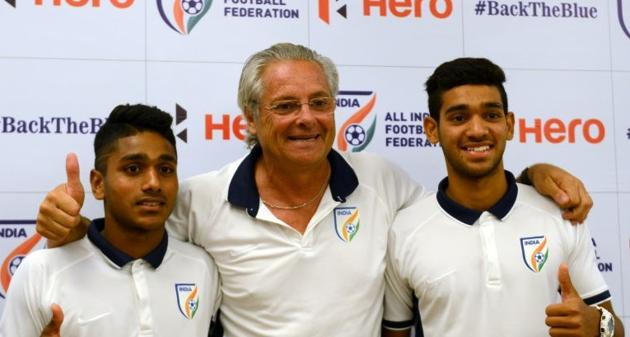 With an eye on bigger challenges, India's U-17 World Cup football squad has been kept together to play in the 2017-18 I-League as Indian Arrows. But the Luis Norton De Matos-coached side shall not get its preferred choice of footballers for the domestic competition.
Apart from the U-17 boys, who played in the World Cup, Matos wanted several U-19 players for Indian Arrows but many of them are employed with Indian Super League teams, who are not ready to part with them.
"The question is whether they will get game time or not in ISL. Playing 18 matches in I-League is better than playing two matches in ISL. At a young age, the more you play, the more you will develop. In I-League, there is chance to rub shoulders with senior players," Matos said.
"I had prepared a list of U-19 players but at least five of them are with ISL teams. I have no option. I want to prepare players for U-19 tournaments in the coming two years."
The Indian Arrows is not a new experiment. From 2010 to 2013, the team comprising U-23 players played in three I-League seasons. It was later disbanded with the All India Football Federation (AIFF) citing financial constraints.
Matos seemed unaware about the earlier version of 'Indian Arrows'. "Did the earlier team have U-17 players?" was his reply when asked about his opinion on how the Arrows' predecessors were treated.
The Portuguese national, however, added that he needs at least two years to develop the team so that it can compete with top international sides. Matos's contract with the AIFF is only till the end of I-league.
"People say that India played defensive football at the World Cup. The problem is if you want to play an organised game, people often take the tactics as defensive. I want my boys to be organised first and then experiment on the offence. I need at least two years for that," he said.
"Tactically there is a lot of scope for these boys to develop. The I-League is a big challenge and I have to remain confident."
The Indian Arrows will play their home games in New Delhi and their first match is against Chennai City FC on November 29.
Personalise your news feed. Follow trending topics