Gurgaon: Underground U-turn near Ambience Mall cleared, says NHAI
Sep 18, 2017 11:09 PM IST
The NHAI had earlier proposed an elevated U-turn on the spot
The National Highways Authority of India (NHAI) said on Monday that construction of an underground U-turn near Ambience Mall on the Delhi-Gurgaon Expressway has been cleared. He also shared the project details with the two major stake holders — DLF Limited and Ambience officials.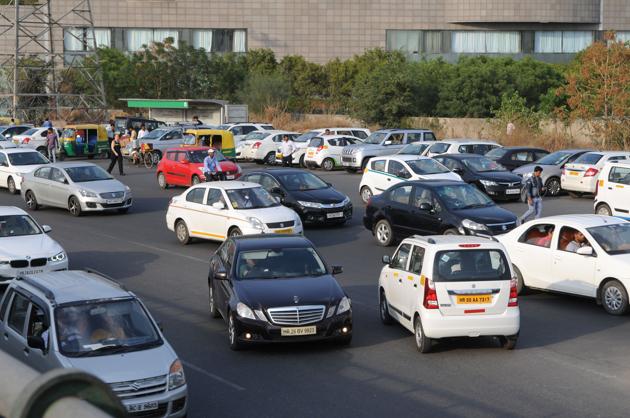 The U-turn is urgently required for pedestrians and commuters coming from Udyog Vihar to cross National Highway 48 on way to DLF, Ambience and other areas. In the absence of a functional U-turn, commuters take
U-turn from under Rajokri flyover.
NHAI officials and representatives of the stakeholders and officials of the Municipal Corporation of Gurugram (MCG) held a meeting in this regard at the NHAI office at 24 Toll site. The NHAI said cost of the project has been pegged at ₹70 crore. While the road authority will share 50% of the cost, the two stakeholders will share the rest.
"Both the stakeholders in principal raised no objections to the design of the underground U-turn and agreed to share cost. The NHAI will, however, wait for a formal approval from their side. The U-turn is required urgently," AK Sharma, project director, NHAI Gurgaon, said.
At a meeting held a fortnight ago, the two stakeholders had voiced their willingness to share design of the underground U-turn.
The NHAI's initial plan was to construct an elevated U-turn, but it changed to an underground one in the last meeting. The formal consent by the two stakeholders is likely at the next meeting at the NHAI's headquarters in Dwarka.
The underground U-turn is to come up exactly at the place the elevated U-turn had been proposed by the NHAI.
"The U-turn will start somewhere from the point where the Shankar Chowk flyover connects Udyog Vihar and will cover nearly 150 metres before connecting Leela Hotel on the other side of the expressway," the NHAI project director said.
Read I Gurgaon: Elevated U-turn on Delhi-Gurgaon expressway near Ambience Mall soon
A series of meetings has taken place in this regard between the NHAI and the state officials since 2008 when the expressway was thrown open to the public.
The NHAI, in 2015, decided to construct an elevated U-turn (instead of underground) and hired a consultant to prepare the design. It followed a meeting with the officials of the Haryana urban development authority (Huda) in November 2014.