Gurugram ranks first in state for public smoking penalties
Gurugram, Hindustan Times |
Sonali Verma
May 31, 2018 10:47 PM IST
Gurugram accounted for 29,989 of the 39,000 fines issued under the Cigarettes and Other Tobacco Products Act (COTPA) between January 2017 and April 2018.
Gurugram district has logged the most number of fines issued for smoking in public spaces and selling tobacco products to underage children.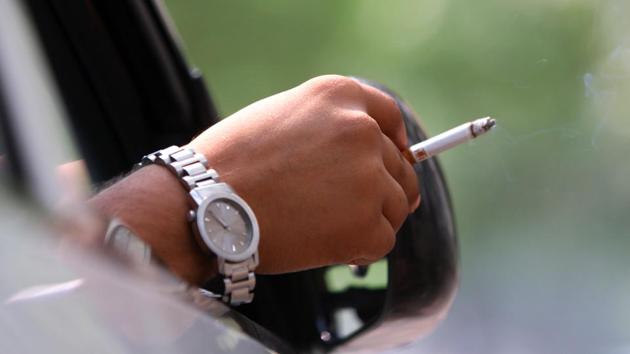 According to data collated by the Gurugram police in collaboration with the non governmental organisation (NGO) Sambandh Health Foundation, the city accounted for 29,989 of the 39,000 fines issued under the Cigarettes and Other Tobacco Products Act (COTPA) between January 2017 and April 2018.
Under the COTPA , smoking in public places is banned and invites a fine of Rs200.
According to the Gurugram police, 15,487 people were booked for smoking in public between December 2017 and January 2018. After Gurugram, Faridabad registered the highest number of fines at 5,428, followed by Sonipat at 1,440, between January 2017 and April 2018.
"The police have been cracking down on those caught smoking in public places. Along with issuing fines, we will also spread awareness on tobacco consumption," said Ravinder Kumar, public relations officer, Gurugram police.
As per the survey carried out by Sambandh Health Foundation and Gurugram Police, 23.7% of Haryana's population – 39.6% males and 5.6% females — consume tobacco in some form. Around 18% adults smoke tobacco products and 4.1% adults consume smokeless tobacco.
Each year, since 1987, World No Tobacco Day is observed on May 31 to draw attention of the public to the tobacco epidemic.
Tobacco consumption is linked to a number of chronic diseases, including cancer, lung diseases and cardiovascular diseases.
"Smoking and eating tobacco leads to many chronic diseases such as chronic obstructive pulmonary disease and lung cancer. It also increases the risk of heart diseases and stroke," Swapnil Mehta, consultant pulmonologist at a private hospital in the city, said. He said nicotine gums, patches, sprays, inhalers and medicines can help one quit tobacco.
Brahm Deep Sandhu, in-charge of the de-addiction centre at the Civil Hospital, said, "There has to be a multipronged approach to deal with tobacco consumption. Positive reinforcement such as spreading awareness in schools and colleges, counselling etc goes well with negative reinforcement such as fines."
There are 14,800 deaths in Haryana every year from tobacco-related diseases, according to members of Voice of Tobacco Victims (VoTV).
Sanjay Seth, trustee of Sambandh Health Foundation, which raises awareness on the dangers of tobacco consumption, claimed that COPTA isn't very helpful in deterring vendors from selling of tobacco to minors. "Appropriate action should be taken against these vendors under the Juvenile Justice Act, 2015," Seth said.
However, under the Juvenile Justice Act, only two cases have been registered so far against tobacco vendors. The latest was on Monday in Ambala when two shopkeepers were caught selling tobacco to underage children.