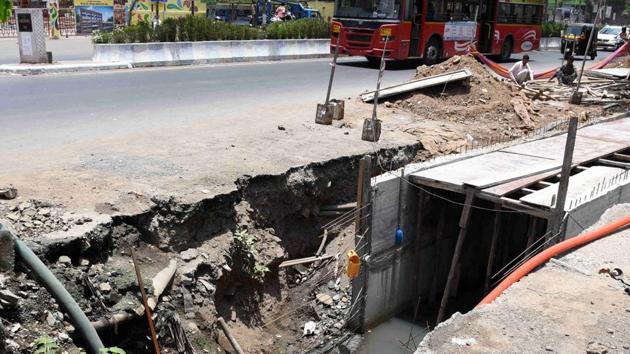 June 30 deadline to clean drains is late, say experts
In addition, unlike last year, when the survey of existing condition of drains started in April and only 40% of the drains had been cleaned, as revealed by a MCG survey in August 2018
PUBLISHED ON MAY 19, 2019 03:37 AM IST
The city's preparations for the monsoon are set to be in place only by the end of next month, with the Municipal Corporation of Gurugram (MCG) looking to get all drains desilted by June 30. Going by the experience of the last two years, such plans will still be in the works when the pre-monsoon showers hit the city and lead to waterlogging and traffic jams, said residents and experts.
Last year, the first spell of pre-monsoon showers hit the city on June 28, following which patches of two roads — at Iffco Chowk, in front of the Westin Hotel, and another in Cyber City, near the Belvedere Towers Metro station — caved in after abundant rainwater had accumulated at the points due to choked drains.
In 2017, the first pre-monsoon showers on June 19 led to waterlogging in major parts of the city, including Hero Honda Chowk, which resulted in commuters taking more than two hours to cover a seven-kilometre distance from Rajiv Chowk to Manesar.
To ensure the city is better prepared for monsoon this time around, MCG officials, since January, have been trying to hire a single private agency for cleaning and maintaining all drains for a two-year period, instead of floating tenders and hiring multiple agencies. In addition, unlike last year, when the survey of existing condition of drains started in April and only 40% of the drains had been cleaned, as revealed by a MCG survey in August 2018, this year, the MCG had started its survey in January to ensure the work is completed well ahead of deadline.
Despite these measures, the MCG could not start work in advance nor hire a single private contractor.MCG commissioner Yashpal Yadav attributed this delay to the 2019 general elections and the model code of conduct.
"June 30 was just a reference mark for all our contractors to finish work, failing which could invite penalties against them. We had aimed at finishing work by early or mid-June to ensure work is completed ahead of pre-monsoon showers. However, our tender allotment process started much later than we had desired due to the general elections and model code of conduct. Work has started picking up pace and we are trying to meet the deadline," said Yadav.
The MCG, which has a 501-kilometre network of sewerage and stormwater drains in the city, is still floating tenders for the desilting work.
Traffic experts in the city said the deadline set by the authorities is cutting it close. "Accumulation of rainwater has a severe impact on roads as it loosens the top layer of bitumen, leading to the formation of potholes that are a cause of vehicle breakdowns and road crashes. Hence, to ensure water does not stagnate on roads, it is vital that stormwater drains are desilted well ahead of the monsoon. The last two years have proved that a delay can create major problems in the city, and hence, the MCG should be have taken this into account and aimed to get drains cleaned by the first week of June," said Sarika Panda Bhatt, programme coordinator with Haryana Vision Zero.
As per the India Meteorological Department's (IMD) latest forecast, monsoon is expected to be near normal. "Usually, pre-monsoon showers are first experienced in Delhi-NCR on June 18 and monsoon showers around June 29. As per the latest forecast, monsoon is expected to be near normal, with a minor delay of three to four days from the norm," said Kuldeep Srivastava, head of the regional forecasting centre of IMD in New Delhi.
Close