[
india meteorological department
]
Latest from india meteorological department
The cyclone is expected to make its landfall early morning on Tuesday, between Tinkona Island and Sandwip on the Bangladesh coast.


Updated on Oct 24, 2022 07:16 AM IST
Widespread and heavy rainfall is expected over parts of northwest India, including Uttarakhand and east Rajasthan.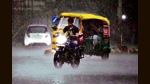 Updated on Sep 12, 2022 04:34 AM IST
Anna Modayil Mani - born in 1918 - was a physicist and meteorologist from Kerala.


Updated on Aug 23, 2022 09:07 AM IST
The flood control room said the water level was at 205.99 metres at 3 pm, unchanged since 5 am.


Published on Aug 13, 2022 06:08 PM IST
The wet-bulb temperature in Delhi also rose to 33.7 degrees, the highest so far this year, after hitting 32.11 degrees on Monday.


Updated on Jun 29, 2022 05:20 AM IST