Liquor to cost 15% more in Gurgaon from April 1
The increase in levies will raise the prices of country liquor, Indian-made foreign liquor (IMFL), foreign liquor and low alcohol content beverages in Gurgaon.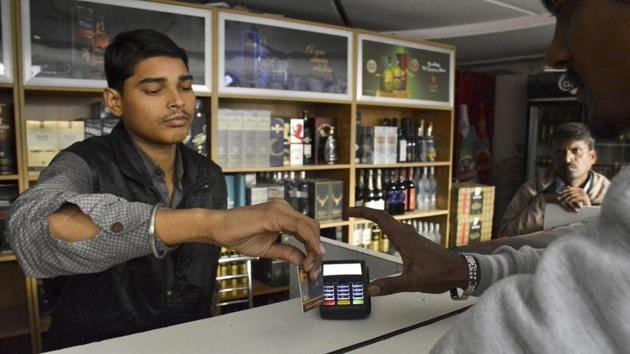 Updated on Mar 06, 2017 12:42 PM IST
Liquor prices are all set to rise by roughly 15% in Gurgaon from April 1 as the Haryana government has announced a hike in excise duty and value-added tax (VAT) on the sale of liquor.
The increase in levies, announced by the Bharatiya Janata Party (BJP) government in its excise policy for 2017-18 on Sunday, will raise the prices of country liquor, Indian-made foreign liquor (IMFL), foreign liquor and low alcohol content beverages.
Unveiling the new policy, excise and taxation minister Capt Abhimanyu, who is also the finance minister, said the state government has "rationalised" the rates of excise duty and VAT. "I will give details of additional revenue in my budget tomorrow," he said.
However, the government is estimated to net Rs 500-700 crore extra on account of these changes. The policy was announced after approval from chief minister Manohar Lal Khattar.
VAT AND EXCISE DUTY INCREASED
The excise duty on country liquor (CL) has been raised from the existing Rs 20 per proof litre to Rs 28. In the IMFL category, the duty ranged from Rs 40 to Rs 70 per proof litre with four slabs. The duty has been increased and three additional slabs have been created. The new rates of excise duty range from Rs 45 to Rs 200 per proof litre with seven slabs, depending upon the ex-distillery price. The rates of excise duty on beer and wine have also seen a substantial increase.
Similarly, VAT rates have been revised from the existing 10% plus surcharge at the rate of 5%. While the new rate of VAT for CL is 13% plus surcharge, it is 13.5% plus surcharge for beer and 14% plus surcharge for IMFL. In case of foreign liquor, the VAT rate has been hiked from 25% plus surcharge to 33% plus surcharge. There is no change in the rate of surcharge.
The minimum retail prices (MRPs) of country liquor, IMFL and low alcohol content beverages have also been increased. The MRP of brands such as Royal Stag and McDowell No 1 has been increased to Rs 450 from Rs 380 for a quart (760 ml bottle), regular brands such as Signature Whisky and Blenders Pride to Rs 600 from Rs 500 and quart (760 ML), deluxe brands such as Antiquity Blue and McDowell's Single Malt to Rs 850 from RS 750 and premium brands such as Black Dog 8 Years and Teachers to Rs 1,500 from Rs 1,300. Similarly, beer prices will also go up from next month.
In addition, the annual license fee of bars has been increased from RS 12.5 lakh to Rs 15 lakh in Gurugram, Rs 10 lakh to Rs 12 lakh in Faridabad and Rs 7.5 lakh to Rs lakh in other districts of the state. Haryana garners a third of its excise collections from Gurugram and Faridabad.
DEFENCE PERSONNEL TO SHELL OUT MORE
Retired and serving personnel of armed forces will also have to pay more for liquor as the state government has increased the excise duty on supply through canteen stores department (CSD). The duty on rum has been doubled to ₹85 per proof litre, IMFL to Rs 235 from Rs 90 per proof litre and beer to Rs 44 per bulk litre from Rs15 per bulk litre. The minister said that despite the upward revision in duty rates, the rates of liquor supplied through CSD would continue to be much lower than those in neighbouring Punjab.
Capt Abhimanyu said the Supreme Court order on ban on liquor shops within 500 metres of national and state highways would lead to dislocation of roughly 500 retail vends in the state. Welcoming the apex court's decision, he said the bars and pubs would continue to function and the directions of the Supreme Court do not apply to them as per the advice of the attorney general and advocate general. There has been no change in liquor quota and the number of retail outlets of CL and IMFL. The number of outlets have been retained at a maximum of 3,500.
LIQUOR CONTRACTORS TO GET MORE FLEXIBILITY
The new policy allows flexibility to vendors to decide location and the allotment will be made on the basis of zones in a shift from allotment on the basis of group of vends in the previous year. "The zones will comprise of six retail vends wherein the allottee will have a freedom and flexibility to locate his vend within his zone subject to legal provisions and directions of the apex court," the minister said.
The vendors will also have the flexibility to either sell CL or IMFL, or both at any of their vends in the zone due to growing demand for IMFL. "The demand for IMFL is growing due to rising buying power and changing taste of liquor consumers," he said. To plug the menace of bootlegging, two sub-vends per zone have also been permitted in the urban area for the first time against a fixed fee of Rs 10 lakh per sub-vend.
Additional chief secretary, excise and taxation, Sanjeev Kaushal, excise and taxation commissioner Shyamal Misra and other senior officers of the department were among those present.
185 VILLAGE PANCHAYATS SAY NO TO VENDS
Liquor vends will be closed in 185 villages across the state, thanks to the resolutions passed by village panchayats. The panchayats passed resolutions seeking closure of liquor vends. "Their resolutions have been approved by the excise and taxation commissioner. No liquor vends will be opened in these villages in 2017-18," the minister said. Only five resolutions were accepted last year.
The department will have an enforcement wing under a police officer of the rank of deputy inspector general to check the illegal sale and smuggling of liquor. Also, the state government has for the first time decided to hold auction by way of inviting bids for wholesale license of supply of imported foreign liquor (bottled in origin) to raise additional revenue. The government, which gets roughly Rs 30 crore from this at present, hopes to net ₹100 crore from foreign liquor sale.
Read: Gurgaon: State unveils new excise policy, alcohol MRP & license fee rates hiked
Close Story