Officials trained to handle complaints on Harpath App
Sep 22, 2018 04:58 AM IST
Move follows notices to top officials over delay in addressing complaints received through the application.
Two days after being reprimanded by the Chief Minister's Office on unresolved complaints on the Harpath App, the district administration, on Friday, held a meeting to train officials from various departments on handling complaints of broken roads.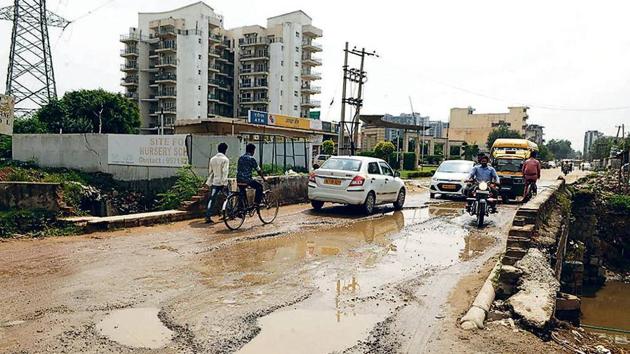 On Tuesday, principal secretary to the chief minister Rakesh Gupta had served show-cause notices to the commissioners of Gurugram and Faridabad municipal corporations for delay in resolving complaints received through the app leading to repeat complaints by residents.
On Friday, the training was held at mini secretariat during a Digital Haryana workshop.
The GIS-based Harpath App was developed to receive complaints on broken and potholed roads for repair. Citizens can download the app, upload a picture of the broken road(s) and lodge a complaint. Every complaint must be resolved within 10 days.
Addressing officials, additional deputy commissioner Munish Sharma said that officers concerned should open the portal every day and level all potholes that can be filled immediately.
City magistrate Manisha Sharma said the problem of reopening of complaints would be reduced if the officials call the complainant after filling the potholes.
"Every department should ensure that incidents of reopening of complaints remain less than 5%. The settlement of complaints received on the Harpath App has improved in the last two to three days," Sharma said.
Officials informed the gathering that a total of 1,726 complaints were received through Harpath App in Gurugram district. Of these, maximum complaints (1,409) were of Urban Local Bodies roads, 124 complaints were of PWD roads, 122 complaints of HSVP roads and 71 complaints were of agricultural marketing board roads.
Officials were informed of the state government's intent to attain a four-star rating in resoling complaints across districts in phase 1—October 31.
A district administration spokesperson added that in phase 2, departments must direct competent field staff to scan roads and ensure there are no more potholes.
"This work should be completed by December 25," the spokesperson said.
The government has set target of making all roads in Haryana pothole-free by January 26.