Remaining portion of MG Road to be ready by end of May: NHAI
The petrol pump owner said work on dismantling the fuel station will begin Monday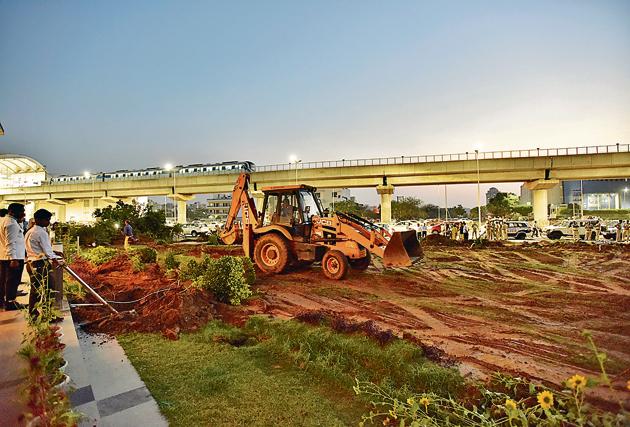 Updated on Apr 15, 2018 11:21 PM IST
The National Highways Authority of India (NHAI) will complete construction of the remaining portion of the underpass on Mehrauli-Gurgaon Road, where a petrol pump is located at present, by the end of May. The petrol pump will be relocated within the next 10 days.
The owner of the petrol pump, who asked not to be quoted, said that work on dismantling the fuel station will begin from Monday and it would take at least 10 days to remove the structure completely.
"We have no objection to shifting the petrol pump to an alternative site in Sector 42, on Golf Course Road. We will soon vacate our present MG Road site to free up space for construction of the underpass," the owner of Karan Filling Station on MG Road said.
The Haryana Urban Development Authority (Huda) has started the process of transfer of the land in question to the NHAI. The roadways authority has been waiting for the land for more than nine months. The land transfer was stuck as a court had issued stay on the plot in Sector 42. The stay was vacated on April 12 after which the Huda officials demolished a boundary wall constructed on the plot.
The construction of the L-shaped underpass is complete, except for the portion where the petrol pump is situated. The fuel station is about 100 metres from the ABW Tower, on the left of MG Road, for commuters heading from Iffco Chowk to Sikanderpur.
The entry to the underpass is nearly 200 metres from Iffco Chowk Metro station, if one is heading towards the MG Road from this point. The exit, on the MG Road, is nearly 100 metres from the petrol pump. The underpass would be used by commuters heading from Huda City Centre to Sikanderpur and Delhi via MG Road. It would save commuters' the time that it takes them to cross the surface zigzag traffic of Iffco Chowk.
Read I Gurgaon: Huda fails to shift MG Road petrol pump yet again
Rajiv Lamba, a resident Sector 50, said, "The underpass will put an end to the traffic mess om Iffco Chowk. The underpass would save 20-30 minutes that we spend crossing the MG Road. The NHAI will open the underpass by the end of May."
"We need at least a month's time to complete construction of the remaining portion of the underpass. We will get the underpass ready by the end of May if we get possession of the land in question at the earliest," AK Sharma, project director, NHAI, Gurgaon, said.
Chander Shekhar Khare, administrator, Huda, said, "We will transfer land to the NHAI soon. The process has already begun."
Close Story