RWAs could be key to deciding MCG poll outcome
Updated on Sep 22, 2017 10:02 PM IST
RWAs can sway votes in favour of a particular candidate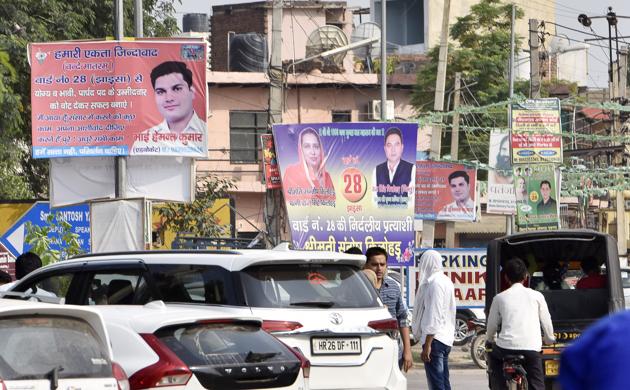 Residents' Welfare Associations (RWAs) across the city are playing a vital role in not only ensuring a fair turnout in the Municipal Corporation of Gurugram elections on Sunday, but also deciding which way the votes will go.
The associations have strong influence over residents and can even get the votes to sway in favour of a particular candidate.
It is because of their ability to sway captive votes in the society that the RWAs have emerged as key players in deciding the outcome of the civic elections on September 24.
With individual candidates not allowed to canvass door-to-door in gated complexes, the RWAs are inviting candidates and giving them an opportunity to interact with voters. Members of residents' bodies said that they have been inviting candidates across the political spectrum to come and address voters. They said such an interaction is key to getting a sense of the issues that residents are grappling with.
"Residents have issues and if candidates get to hear them directly from voters, nothing like it. It would help them get a feel of the situation on the ground. It also gives residents an opportunity to know their candidates and their promises, thereby helping them decide who to vote," said Nilesh Tondon, president, RWA, Fresco Apartment, Sector 50.
The RWAs have also let it be known that they prefer candidates who are locals and are familiar with the area and the people living in it. That way, they said, the voters won't be forgotten once the polls are over and done with.
"The candidate should be able play a key role in the formation of the Gurugram Metropolitan Development Authority and guide it in the right direction. Presently, Gurgaon looks nothing like the Millennium City that the planners wanted it to be," Rajeev Sinha, president, Essel Tower RWA, said.
Read I Gurgaon: AAP likely to give MCG polls a miss
RWAs have cited water shortage, inefficient sewerage system, poor traffic management, waterlogging and rising crime as issues that need to be addressed without delay.
Amit Jindal, president, RWA, Vipul Greens, Sohna Road, said, "We request all residents to cast their votes. We have given equal opportunity to all the candidates (to interact with voters)."