Air ambulance services take off in India, but not fast enough
Rhythma Kaul and Soubhik Mitra
Aug 07, 2016 10:59 AM IST
Medical evacuations (med-evacs) are not just in short supply but even those that offer services can't move patients at night because most airports do not have the facilities to land at night.
Congress president Sonia Gandhi was brought to Delhi on chartered flight from Varanasi when her fever took a turn for the worse on Tuesday because she couldn't get an air ambulance on call.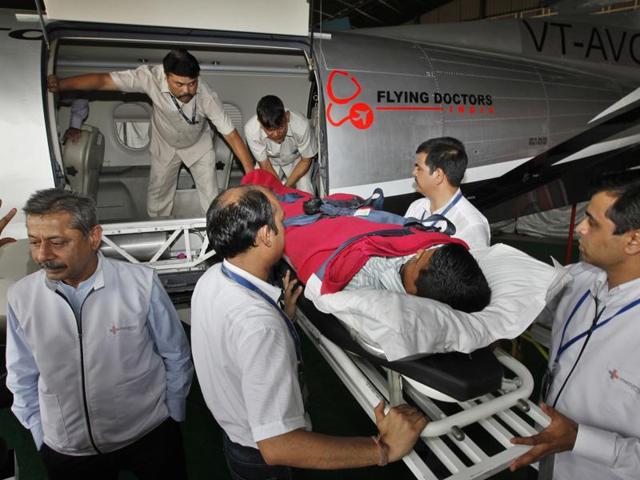 Medical evacuations (med-evacs) are not just in short supply but even those that offer services can't move patients at night because most airports do not have the facilities to land at night.
Arguably India's most advanced med-evac systems, Medanta's Flying Doctors India cannot operate at night from smaller cities. "Though we can fly at any time, we end up transporting patients during the day as lifting patients from smaller airports at night is not feasible," said Dr Yatin Mehta, chairman, institute of critical care & anaesthesiology, Medanta-The Medicity.
On an average, Medanta does two of Delhi's three-four medical evacuations in a day, though the requirement is for at least double the number given the high number of super-speciality hospitals in and around Delhi.
Delhi has six private operators that provide chartered flights for medical emergencies, and each operator gets between 10-15 med-evac queries a day.
"Not all queries get converted as there are several factors involved, such as the availability of an airstrip for landing near the place from where the call is made, availability of aircraft and cost of transport," said Dr Jagdish Kumar Gupta, operations head of the Delhi-based Aeromed International Rescue Services Pvt. Ltd.
Aeromed does 30-35 med-evacs in a month. From Delhi most commonly flown destinations are Patna in Bihar, Lucknow and Kanpur in Uttar Pradesh, Guwahati in Assam and Siliguri in West Bengal.
In Mumbai, air ambulance operators get at least one query a day, but less than half get converted into bookings owing to multiple factors that include shortage or unavailability of aircraft.
Among the top 10 populous cities in the world, Mumbai does not have more than three tailor-made aircraft to fly critically ill people.
"Of the three aircraft available on paper, not all are available at a time. One could be grounded for maintenance while the other two could be booked," said Captain Amit Kumar, director of Innovation Aviation Pvt Ltd which operates a Beech King Air C-90A aircraft as an air ambulance.
JetSetGo, another operator said that they are unable to cater 20% of the queries owing to these factors.
"We lack infrastructure to support air ambulances. That said, India is still far ahead of many others," said Kanika Tekriwal, chief executive officer and co-founder of JetSetGo.
These chartered aeroplanes are converted into air-ambulances that are fitted with portable life-support, which is not only expensive but also a waste of time.
"Having a dedicated air ambulance does away with preparation time, we can get permits and take off within an hour of getting a call. However, what we do is hugely insufficient as Delhi-NCR caters to all of north India and neighbouring countries," says Medanta's Dr Mehta.
Current charges are between Rs 65,000 and Rs 70,000 per hour of flying time that can come down by 20% depdnding on how busy the airport is.
"Smaller airstrips such as Juhu are unfit for night operations and operation costs at bigger metro airports such as the Chhatrapati Shivaji International Airport are almost double. For instance, a round trip from Mumbai to Nagpur to fly a patient could cost around Rs. 3.5 lakh," says Captain Amit Kumar.
Patna does not have a base for air ambulance, med-evacs are booked through local hospitals, which arrange services usually from Delhi.
In Patna, it usually takes six hours after the call is placed for the med-evac to happen. Full payment has to be made in advance. The Delhi-Patna-Delhi charge varies between Rs 3.25 and Rs 4 lakh, depending on the category (single or twin engine) of aircraft.
"About 100 medical charters were reported at Patna airport over the last one year," says Patna airport director, Rajender Singh Lahauria.
Though air ambulances frequently ferry patients in and out of Indore in Madhya Pradesh, there evacs happen at night. Indore airport director, Manoj Chansoria, says, "Chartered medical flights are frequently allowed during airport operational hours but the airport is non-operational between midnight and 6 am."
(With inputs from Ruchir Kumar in Patna)