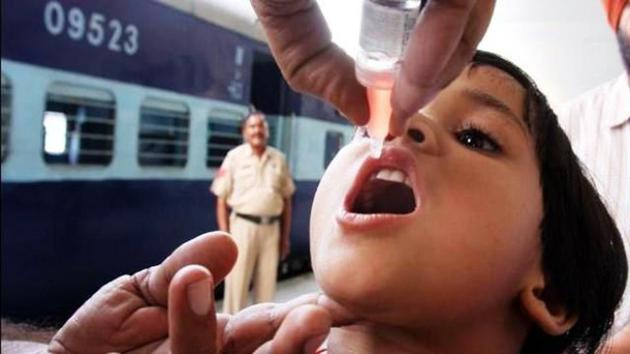 On World Polio Day, check out 5 facts on polio eradication
World Polio Day is celebrated every year on October 24 with the objective of making the world 'polio-free'. Does polio still exist? Is it curable? Read on to find out.
Hindustan Times | By HT Correspondent
UPDATED ON OCT 24, 2018 09:48 AM IST
World Polio Day is celebrated on October 24 globally to generate awareness for the eradication of polio, as well as to honour the efforts of thousands of employees of World Health Organization (WHO) and other organisations committed to the cause. The occasion also commemorates the birth of American medical researcher and virologist Jonas Salk, who discovered and developed one of the first successful poliomyelitis or polio vaccines.
According to WHO, the theme for World Polio Day 2018 is 'End Polio Now'. WHO defines polio as a highly infectious viral disease, which mainly affects young children. It has no cure, but can be prevented through immunisation. Polio vaccine, given multiple times, almost always protects a child for life. The strategy to eradicate polio is therefore based on preventing infection by immunising every child until transmission stops and the world is polio-free.
WHO says Global Polio Eradication Initiative (GPEI), the largest private-public partnership for health, has reduced polio by 99%. It is led by national governments with five core partners --the WHO, Rotary International, the US Centers for Disease Control and Prevention (CDC), the United Nations Children's Fund (UNICEF) and the Bill and Melinda Gates Foundation. The GPEI assists countries in carrying out surveillance for polio and large-scale vaccination rounds.
Polio now survives only among the world's poorest and most marginalised communities, where it stalks the most vulnerable children. When India was still polio-endemic, there were 6,40,000 vaccination booths, 2.3 million vaccinators, 200 million doses of vaccine, 6.3 million ice packs, 191 million homes visited and 172 million children immunised: all this in just one round of the national immunisation days.
Here are five facts on polio eradication, shared by WHO:
1. While polio is a distant memory in most of the world, the disease still exists in some places and mainly affects children under 5. One in 200 infections leads to irreversible paralysis (usually in the legs). Among those paralysed, 5% to 10% die when their breathing muscles become immobilised.
2. When the Global Polio Eradication Initiative was formed in 1988, polio paralysed more than 3,50,000 people a year. Since that time, polio case numbers have decreased by more than 99%. More than 16 million people have been saved from paralysis because of vaccination efforts against polio.
3. Today, only three countries in the world have never stopped transmission of polio (Pakistan, Afghanistan and Nigeria). Despite the progress achieved since 1988, as long as a single child remains infected with poliovirus, children in all countries are at risk of contracting the disease.
4. Unlike most diseases, polio can be completely eradicated. There are three strains of wild poliovirus, none of which can survive for long periods outside of the human body. If the virus cannot find an unvaccinated person to infect, it will die out. Type 2 wild poliovirus was eradicated in 1999.
5. There are 2 forms of vaccine available to ward off polio - oral polio vaccine (OPV) and inactivated polio vaccine (IPV). Because OPV is an oral vaccine, it can be administered by anyone, even volunteers. One dose of OPV can cost as little as 14 US cents.
Close