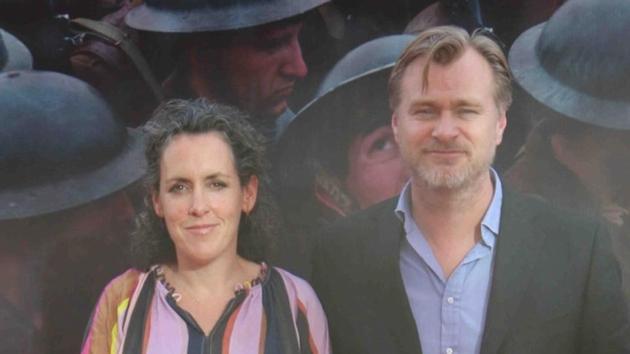 Christopher Nolan's India visit attracts who's who of Indian cinema. See star-studded group photo
The Dark Knight and Dunkirk director Christopher Nolan's India visit attracted Indian celebrities such as Shah Rukh Khan, Jaya Bachchan, producer Siddharth Roy Kapoor and actor Kamal Haasan. See group photo.
UPDATED ON APR 02, 2018 05:02 PM IST
Filmmaker Christopher Nolan's visit to India attracted much media attention, but more importantly for him, he managed to shine a spotlight on the reason why he was here. Over three days, the director behind such hits as The Dark Knight trilogy, Inception and Dunkirk, spoke about the importance of photochemical film process over digital movie-making, an event that attracted several prominent figures of the Indian film industry.
Sharing a group photo on Twitter, journalist Anupama Chopra wrote, "A roundtable in which I got to listen to some of the greats! So much power and glory in one room. I really hope the conversation #ChristopherNolan ignited carries on! And the @FHF_Official gets more support and most importantly, funds!"
The photo includes Bollywood stars such as Shah Rukh Khan (who tweeted about meeting Nolan), Jaya Bachchan, producer Siddharth Roy Kapoor and actor Kamal Haasan.
Talking about filmmaking at a session in Mumbai, Nolan said: "There are odds that one faces in the process of filmmaking... financing the film, shooting the film... odds are there in it. So, the question arises that why somebody would be interested to shoot a film in film camera which is more difficult to shoot?
"But filmmaking is not just about logic and pragmatism, it is about dreams, magic and experience."
Nolan, who had come to India to shoot The Dark Knight Rises in Jodhpur back in 2011, also hosted screenings of two of his recent films - Oscar-nominated Dunkirk and Interstellar.
READ | Christopher Nolan is in India and here's a crash course on why he's here (through 5 films)
READ | From enjoying local food to meeting Shah Rukh Khan: What Christopher Nolan has been up to in India
Follow @htshowbiz for more

Close