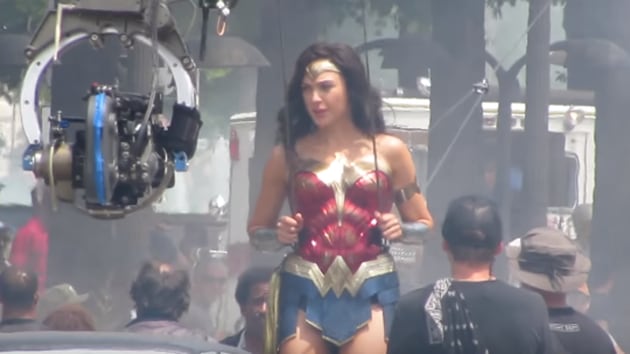 Gal Gadot, Chris Pine film riot scene in leaked Wonder Woman 1984 videos
Gal Gadot and Chris Pine were photographed on the set of Wonder Woman 1984, filming what appears to be a riot scene. Another video, however, has fans speculating if the Invisible Jet will be introduced.
UPDATED ON JUN 19, 2018 03:20 PM IST
As hard as Gal Gadot and company may try to keep pictures and videos from the Wonder Woman 1984 set getting leaked - some reports even suggest that a crew member was fired for taking secret photos - the leaks have been frequent and revealing. While the team successfully avoided fans learning of Steve Trevor's return in the worst way possible - they released an official image of Chris Pine ahead of filming - new videos from the movie's Washington sets have sent fans into a speculative tizzy.
In one of the videos, we can see Gal Gadot harnessed to wires, preparing for an action scene. Going by the actor's stance and the fact that she seems to be cruising down the street, fans online have begun speculating that the film will introduce Wonder Woman's iconic Invisible Jet.
The Invisible Jet's butt-of-all-jokes reputation was hinted at in the recent Lego Movie, and the ridiculousness of the concept has been routinely brought up in its almost 80-year history. The jet was first introduced in 1942. Director Patty Jenkins had previously confirmed that she fully intends to introduce the jet in her Wonder Woman series. "The invisible jet is very important and ultimately we have to have the invisible jet. That's a very big part of Wonder Woman," she told Yahoo! Movies.
Several other pictures and videos have also found their way online, including one in which Gadot can be seen racing down a street with a camera tracking her movements. Another set of pictures shows Diana interacting with Steve Trevor, both dressed in '80s outfits.
Wonder Woman 1984 is scheduled for a November, 2019 release. The film was quickly green-lit after the critical and commercial success of the first film, a rare occurrence in the DC Universe.
Follow @htshowbiz for more
Close