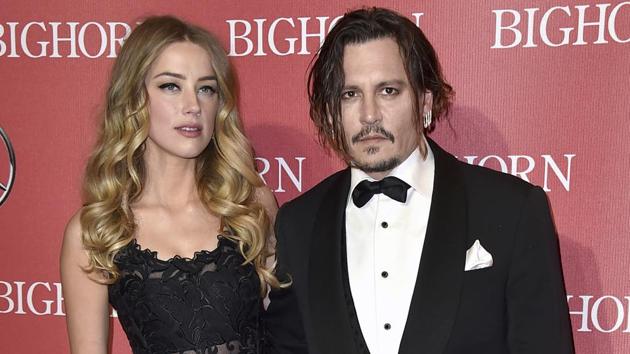 Johnny Depp accuses ex-wife Amber Heard of domestic abuse, says she severed his finger
Actor Johnny Depp has filed a countersuit against ex-wife Amber Heard, alleging that she threw a bottle at him and severed his finger, requiring him to get surgery.
UPDATED ON MAR 15, 2019 03:15 PM IST
Actor Johnny Depp has filed a $50 million (Rs 345 crore) lawsuit against ex-wife Amber Heard, whom he has accused of physical abuse. Depp filed his lawsuit on March 1, in response to a Washington Post op-ed written by Heard in 2018, in which she repeated allegations of abuse against Depp, which she had first made in 2016. The actors filed for divorce in 2017.
Details of Depp's lawsuit have now been shared online on NME and other portals. He calls the allegations 'an elaborate hoax'. "The op-ed depended on the central premise that Ms Heard was a domestic abuse victim and that Mr Depp perpetrated domestic violence against her," the complaint reads,calling the allegations, "categorically and demonstrably false."
Also read: Johnny Depp to present new evidence claiming that he didn't beat Amber Heard
The claim continued, "Ms Heard's false allegations against Mr Depp have been conclusively refuted by two separate responding police officers, a litany of neutral third-party witnesses, and 87 newly obtained surveillance camera videos."
The lawsuit claims that Heard is the 'perpetrator' of domestic abuse and that she threw a bottle at Depp which "severed (his) middle finger on his right hand and shattered the bones", requiring him to get surgery.
Also read: I was petrified of the monster: Johnny Depp's ex Amber Heard says he had an abusive alter-ego
"Unaware that members of Mr Depp's security team were mere feet away, Ms Heard falsely began yelling, 'Stop hitting me, Johnny,'" the lawsuit continued. Depp's career has taken a hit in recent years, with his films underperforming at the box office. There had been an active protests by fans against his involvement in the recent Fantastic Beasts: The Crimes of Grindelwald, and Disney has said that they are looking to replace him in their Pirates of the Caribbean franchise. Heard, meanwhile, starred in the biggest hit of her career with DC's Aquaman.
Follow @htshowbiz for more
Topics
Close