Ryan Reynolds can't stop skewering Green Lantern. His new tweet is his best yet
Ryan Reynolds has often poked fun at his first superhero film, the critical and commercial disaster Green Lantern. But with Warner Bros tired of his jokes, the star has saved his best attack for last.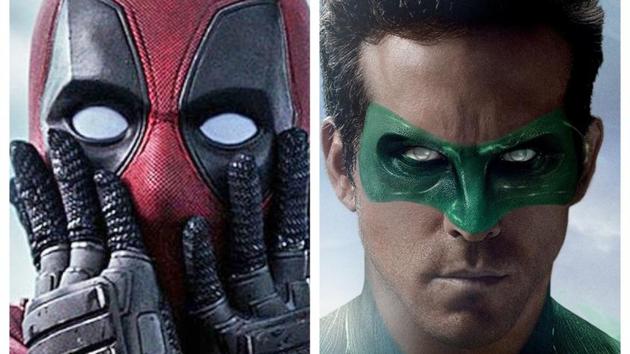 Updated on May 22, 2018 11:52 AM IST
Ryan Reynolds may have touched a nerve with his constant jokes about starring in the 2010 superhero film, Green Lantern. After Reynolds' latest dig at the critical and commercial dud -- made in Reynolds' Deadpool 2 -- the studio tweeted to the star that they wanted his Green Lantern ring back. Reynolds responded with a characteristically colourful joke.
Warner Bros, the studio behind Green Lantern, tweeted to Reynolds on Saturday, with the message, "Sorry @VancityReynolds, we're going to need the ring back."
On Sunday, Reynolds replied in his trademark tongue-in-cheek manner. "Well, if we'd used a NuvaRing™ in the first place, we wouldn't be in this mess," he said, making a reference to a female contraceptive, and suggesting that the film should never have been made.
In the DC comics, on which the character is based, Green Lantern gets his powers from an alien ring. Reynolds' Deadpool has joked about Green Lantern in both films -- in the first movie, Deadpool cracked a joke about Green Lantern's costume, and in the new one, he took things a step further by going back in time and murdering Ryan Reynolds before he could sign on to Green Lantern. "You're welcome, Canada," Deadpool said to the camera as he walked away from Reynolds' dead body.
Reynolds spoke about his bittersweet relationship with Green Lantern -- he met his wife, Blake Lively on the film, but still hasn't seen the final cut -- in a recent interview to Entertainment Weekly. "Look, I've never seen the full final version of Green Lantern," Reynolds revealed to EW. "I saw a very late stage rough cut of the film. Now, that isn't to say that I didn't want to see it because I didn't like it. I have movies that have been received pretty well that I haven't seen, and then I have movies that I have seen 100 times that people don't like but I just like. The Green Lantern (joke in Deadpool) to me is just sort of, I don't know, kind of fun. It's me just taking the piss out of me, but it's more (Deadpool) though."
Green Lantern was trashed upon release, killing all hopes for a future franchise. The film barely recouped its hefty $200 million budget, and has a 26% score on the review aggregator site, Rotten Tomatoes. Deadpool 2, meanwhile, has surpassed Green Lantern's lifetime box office haul in its first weekend. The film made more than $300 million worldwide, including a solid Rs 33 crore bow in India.
Follow @htshowbiz for more
Close Story