Tenet: Christopher Nolan shoots film at Gateway of India with Dimple Kapadia, Robert Pattinson. See pics, video
Updated on Sep 17, 2019 10:36 AM IST
Christopher Nolan, Dimple Kapadia and Robert Pattinson were spotted filming Tenet in Mumbai on Monday. Check out their pics and videos.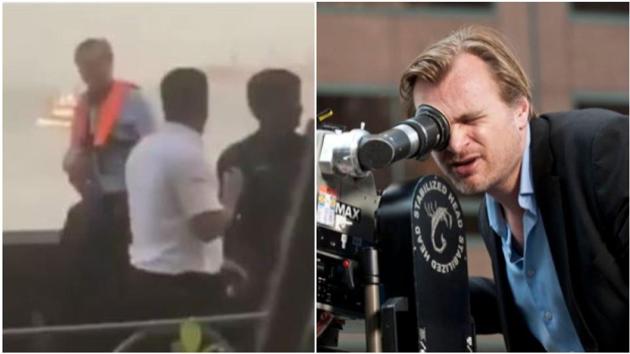 Ace Hollywood director Christopher Nolan is in Mumbai shooting for his next film, Tenet. The film stars John David Washington in the lead with a supporting cast of Robert Pattinson, Kenneth Branagh, Michael Caine and also Dimple Kapadia.
Nolan was spotted shooting for Tenet at the Gateway of India during the early hours of Monday. He was joined by Kapadia and Pattinson at the location. Pictures from the location show Nolan in an orange life jacket, cranking the camera while an assistant follows him with a large colourful umbrella. Nolan, like always, had a big cup of coffee near him, this time, stuffed in his pocket.
Kapadia is seen with large clips keeping her hair in check. She is wearing a salwar suit and a red shawl on her shoulders. Pattinson is seen in a crisp formal shirt and beige suit and dark sunnies. He is clean shaven and wears his hair blonde in the film.
Nolan and Pattinson arrived in India this weekend and no one, other than a lone engineer fan could recognise them. He managed a selfie with Pattinson and sneaked in a picture of Nolan.
The cast and crew will shoot for the film in Mumbai for 10 days. The film's team is stationed in the south Mumbai for the shoot. They will film crucial action sequences in a total of seven counties including Italy, UK and Estonia.
The first teaser for the film was added to Dwayne Johnson-starrer Hobbs and Shaw screening at AMC Century City, Los Angeles. The teaser was not shared online.
The teaser that lasted for about a minute, opened with a bullet hole that's punched through a glass wall. Standing behind the glass is John David Washington's character. He later is seen walking up to examine the pierced glass. And as he moves, the camera pans to reveal some more cracks in the glass.
Kapadia grabbed a lot of attention on social media when she was spotted in the city flaunting her new hair colour, reportedly for her role, which gave the 61-year-old actor an ultra-glam appeal. Mumbai-based talent manager Purvi Lavingia Vats, who had pitched the idea of casting Dimple to Nolan's team, had told IANS: "Dimple is a great actress and a wonderful person. She is the only Indian actor to be a part of this project as of now. They will be shooting the film in different countries, and India is one of them."
Also read: Dream Girl box office collection day 4: Ayushmann Khurrana starrer declared a hit, his fastest film to cross Rs 50 crore
Nolan last visited India last year in March to create awareness about celluloid films in the digital era, and interacted with iconic personalities of Indian cinema including Amitabh Bachchan, Kamal Hassan and Shah Rukh Khan.
Back then, when asked if he watched Indian films, Nolan had replied: "I have watched some Indian cinema, not enough though. But I enjoyed them very much. I want to watch more of them."
Follow @htshowbiz for more
Personalise your news feed. Follow trending topics