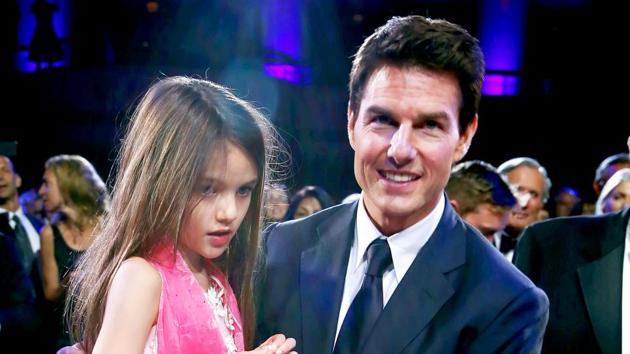 Tom Cruise's daughter Suri turns 12, but they haven't been seen together in 5 years
Tom Cruise's daughter Suri turned 12 on April 18, even as rumours suggest that the Mission: Impossible star has is no longer a part of her life.
UPDATED ON APR 19, 2018 06:56 PM IST
Katie Holmes on Wednesday posted a picture of her daughter Suri Cruise's 12th birthday party, even as her father Tom Cruise's presence in her life is open to speculation. It was previously reported that Cruise hasn't met his daughter in over three years, but he did send her gifts now and then, including for her birthdays.
Katie Holmes shared the black & white photo with 12 tiny pink hearts as a caption. In the picture, Suri can be seen wearing a 'happy birthday' tiara.
+ +
A source told Hollywood Life that Cruise's relationship with his daughter isn't something Holmes talks about. "Suri gets a gift from Tom on her birthday every year and this year was no exception," the source says. "It's not something Katie talks about though, beyond saying that Tom does always come through with gifts for things like birthdays and Christmas. She's very tight-lipped."
According to a 2016 report on Fox News, Cruise lost touch with Suri when she was seven. "If he wanted to see her, he could see her," one source told New York Post in June, 2016. "Even people in prison have a right to see their children."
But Fox News suggested that Suri isn't too affected by this. "She's thriving. She's got lots of friends and a nice, normal life. This is his loss, his issue, his problem," said a source in the Fox report. "He must be really brainwashed."
According to a different report, the actor has not been photographed with Suri since 2013. In 2017, a long-time friend of Cruise who operates a fanpage in his honour on Facebook, wrote that Cruise had told her to avoid posting pictures of Suri because, 'She is no longer part of my life.'
In June, 2017, a source told In Touch that Cruise refused to meet Suri on Father's Day even though he was just 23 miles away. "Tom could have easily made the trip to see Suri. It only takes about 30 minutes without traffic," the source said. "It would've only added a few hours to his busy schedule."
Meanwhile, Katie Holmes refuses to mention Cruise at home. According to a Life & Style report, "Katie is more adamant than ever about not talking about him, publicly or privately. With Tom missing from Suri's life for so long, Katie believes her daughter only has distant memories of him. At this point, Katie doesn't want to bring up his name and have Suri start longing to see Tom all over again. It would be too painful for both of them."
Katie is rumoured to be dating actor Jamie Foxx. She divorced Cruise in 2012.
Follow @htshowbiz for more
Close