Weekend Binge: Like It, 5 phenomenal modern horror films that broke records
Stephen King's It is a phenomenal, record-breaking success. But why? We revisit 5 seminal modern horror movies and try to understand what makes the genre so special.
weekend binge
Updated: Sep 18, 2017 10:18 IST
At the end of August, we got what is arguably one of the worst Stephen King adaptations ever projected onto a movie screen, and now, just two weeks later, we have a film that couldn't be more different. We have It. As we speak, the film has already broken records for the biggest horror debut of all time, in addition to other, just as important milestones.
But what makes It so different from The Dark Tower? Both stories came from the same mind - although it is admittedly a mind that has an unsteady, albeit largely reliable track record. The problems with the Dark Tower have already been discussed ad nauseam, which gives us an excuse not to talk about it here. But somehow, everything seemed to come together this time, with It. And we couldn't be more excited to discuss it.
"The director (Andy Muschietti) made a fabulously compelling movie, our marketing just nailed it and the date was special," was Jeff Goldstein's succinct explanation. He's Warner Bros. chief of domestic distribution.
But what Goldstein forgot to mention - or perhaps simply overlooked - were other factors: The power of internet buzz can never be discounted, nor can the power of word of mouth, and a growing interest in the '80s as an era within which to set these compelling stories. It's no coincidence that It arrived sandwiched between two seasons of Netflix's hit show, Stranger Things.Interestingly, King's source novel wasn't set in the '80s at all - at least not the bits shown in the movie. And it's no secret that Warners didn't know what they had on their hands even until late last week, when they projected an opening of around $60 million (It ended up making more than double of that).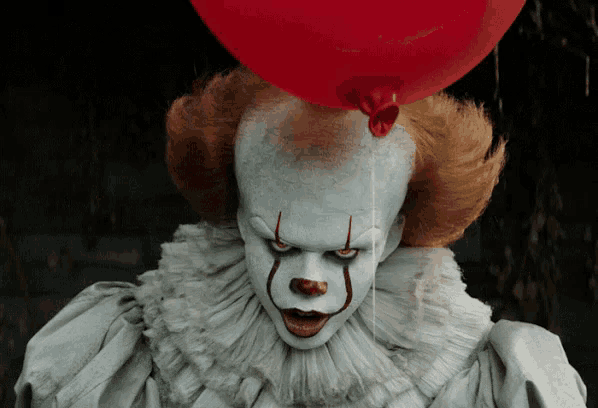 While It is, by my most accounts, a phenomenal success - more hyperbolic statements have been made based on less merit - its true test will come in its second weekend. A 60% weekend-to-weekend drop is fairly standard in the horror genre - most scary movies tend to be front-loaded - but then again, most horror films don't attract the sort of reviews It has been getting.
But while we wait, let's take five extraordinary modern horror movies as case studies, and try and sift the necessary ingredients that go into making a breakout horror hit.
Scream (1996)
A common factor that unites the films here - and, certainly, this is a factor that unites most great movies - is that these films have things to offer that we've never seen before. Sure, we saw films toying with genre conventions - these were mostly slasher films, which have a notoriously strict rulebook (indeed, Wes Craven did it himself with New Nightmare) - but we'd never seen anything like Scream.
Craven, after creating some of the most iconic horror movies ever made - films like The Last House on the Left, The Hills Have Eyes and A Nightmare on Elm Street - decided the best way forward was by looking back. So he turned the genre on its head, and instead of churning out another scare fest that audiences could laugh at in theatres - remember, it had been almost a decade since the world had seen a transcendental original horror movie, and audiences aren't stupid - he sat down beside them, and like the most cine-literate BFF, dictated what should be made fun of.
With Scream, Craven brought the term 'meta' - or, self-acknowledgment - into the mainstream, and birthed yet another franchise.
The Sixth Sense (1999)
Horror, as a genre, like science-fiction and comedy, is rarely given the respect that it deserves. This is going to be a common theme, you will notice as you read this. When films like the Exorcist attract the Oscars' attention, it's seen as more of an anomaly than a testament to the film's quality. So when M Night Shyamalan's The Sixth Sense took the world by storm mere months before Y2K happened, earning more than half a billion dollars - mind you, such high grosses were very uncommon back then - it left everyone a little confused.
Horror movies did fine - they have their built-in audiences - but this was extraordinary. But with the luxury of hindsight, we can now confidently say that a huge factor that contributed to the Sixth Sense's success was simply the year in which it was released. The internet hadn't yet taken over our lives, and the concept of live tweeting was still more than a decade away
Imagine if the same movie had come out now. The film wouldn't even have premiered, and the whole world would've known the twist. We'd have leaked scripts and insider scoops floating on fan sites before you could say 'I see dead people'. As the years go by, the rarer it becomes to see films attempt twist endings on the scale of the Sixth Sense - which is arguably the most ambitious twist ending ever. Heck, such is the desperation to sell tickets, the marketing teams behind films like Terminator: Genisys put the film's biggest twist in the trailer.
The Blair Witch Project (1999)
Horror films were never really expensive to make - in fact, one of the reasons they endure is because they cost so little. But when two independent filmmakers - Daniel Myrick and Eduardo Sanchez - stumbled upon the best kept secret in horror, that the documentaries on real-life hauntings were often scarier than the glossy Hollywood fare that would flood screens every Halloween, little did they know that they would be changing the cinematic landscape of an entire genre.
What they made wasn't even as original as it now seems - the BBC mockumentary Ghostwatch terrified audiences in 1992 - but the film went on to make $250 million against a shoestring budget of $60,000, enough to make it one of the most successful independent films of all time.
It also paved the way - another factor that unites great films - for others like it. The found footage boom would produce classics like Cloverfield, the Spanish film REC, the Best Picture Oscar nominee District 9, and the next film on this list, Paranormal Activity.
Paranormal Activity (2007)
Every film on this list is a fluke. But none is a bigger fluke than Paranormal Activity, a film made for $7000 in director Oren Peli's own house and based on his own experiences with the paranormal. From the first time it was screened for a paying audience at the Screamfest Horror Film Festival in 2007, Peli knew he was on to something special. With nothing to lose, he made DVDs and sent them out to studios.
As the legend goes, one of those DVDs reached producer Jason Blum, and another one arrived at the doorstep of Steven Spielberg. Both were so taken by the film's raw power - there were also rumours of walkouts at festival screenings, a sure-shot sign of early buzz - that they decided to back it.
The film made almost $200 million at the box office and spawned several sequels. But few modern horror movies can come close to achieving the no-frills terror of the first Paranormal Activity (the cut with the original ending, remember, not the one tacked on by Paramount Pictures for the theatrical release). It proved to Hollywood studios that the real money isn't in expensive effects but strong concepts. It's what Jason Blum made a career out of and what the industry spent the next decade trying to recreate.
Get Out (2017)
Having more than one genre classic released in the same year isn't unprecedented - indeed, two films on this very list were released in 1999 - but if there's one film that could challenge It's success in 2017, it's Jordan Peele's Get Out.
It's the duty of the artist to use his art to comment on the world, and the world Peele - who was known mostly as a comedian before this - saw wasn't going to stifle his opinion, as hard as it tried.
While Get Out is about the current racial climate in America, police violence, and the deep-rooted differences those communities harbour against each other, it could easily be transported to India. And that's the power of great cinema - it transcends borders, and strikes universal themes.
If you look closely, Get Out says, the real world is scarier than any possessed doll or creepy clown.
Follow @htshowbiz for more
The author tweets @RohanNaahar
First Published: Sep 12, 2017 09:25 IST