'Children of actors need to work twice as hard': Michael Douglas answers the nepotism question at HTLS 2019
HT Leadership Summit 2019: Michael Douglas said winning the Academy Award for Wall Street was especially important for him, 'because I felt like I'd created my own identity.'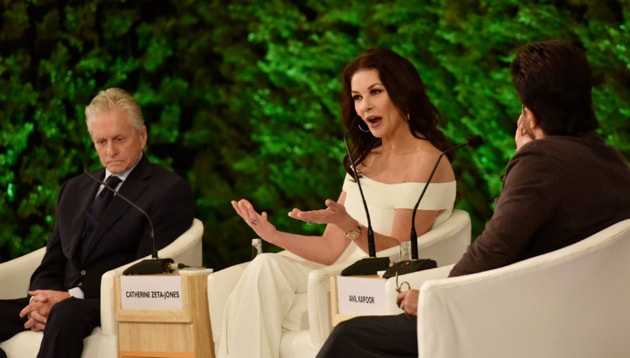 Updated on Aug 02, 2020 05:28 PM IST
Actor Michael Douglas said that children of actors 'need to work twice as hard' as others because they are prone to more scrutiny. Douglas and his wife, actor Catherine Zeta-Jones, were in conversation with moderator Anil Kapoor at the 17th Hindustan Times Leadership Summit in New Delhi on Saturday.
Son of Hollywood icon Kirk Douglas, the Wall Street star said that he struggled to live up to the legacy of his father in his youth. Winning the Academy Award for his performance in director Oliver Stone's drama about 80s excess, Douglas said, was especially important for him, 'because I felt like I'd stepped out of the shadow of my father and created my own identity.'
Douglas and Zeta-Jones were responding to Kapoor's question about nepotism in the entertainment industry. "Be very appreciative and very humble," Douglas offered as advice to children of celebrities. "There are a lot of ways you could grow up in this world." He said that his father, who will turn 103 on Monday, was instrumental in shaping him as a person. "Ethics, tenacity and hard work," Douglas said is the key to success.
Watch: Catherine Zeta-Jones, Anil Kapoor match steps to 'Om Shanti Om' at #HTLS2019
This is the advice that the actors have given their kids as well, because they 'want to be actors'. Her husband's 'desire to make the world a better place, a more peaceful place', Zeta-Jones said, is what they have tried to instil in their children, Dylan, 19, and Carys, 16.
Unlike Douglas, Zeta-Jones said she didn't have any 'family connections to the film industry'. She had to make it on her own, first in London and then in Hollywood. "I had a fearlessness," she said.
Over a five-decade-long career, Douglas has appeared in a variety of genres, but is best known for his starring roles in films such as Wall Street (for which he won an Academy Award, and cemented the line 'Greed is good' in pop-culture history); the erotic thrillers Basic Instinct and Fatal Attraction; and more recently the Marvel Cinematic Universe superhero movies Ant-Man, its sequel, and Avengers: Endgame.
Zeta-Jones continues to work across a variety of genres, and has appeared in the black comedy Intolerable Cruelty, the rom-com No Reservations, the heist film Ocean's Twelve and the psychological thriller Side Effects. In 2010, she won a Tony Award for Best Actress in a Musical for her performance in A Little Night Music.
She has spoken publicly about her struggles with depression and bipolar disorder, and her husband Michael Douglas' cancer diagnosis.
Follow @htshowbiz for more
Close Story