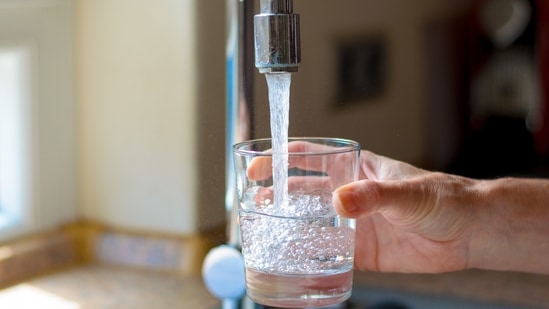 10mn households in JE hot spots get tap water access
Years of repeated outbreaks have contributed to poor health outcomes for children, particularly in UP and Bihar
By
Zia Haq
, Hindustan Times, New Delhi
PUBLISHED ON JUL 18, 2021 01:21 AM IST
The country's flagship programme to provide rural households with piped drinking water, Jal Jeevan Mission, has expanded rapidly to cover more than 10 million homes in 61 districts notorious for Japanese Encephalitis-Acute Encephalitis Syndrome, a brain fever in children that needs a multi-pronged approach for treatment, according to health experts.
The 61 districts spread over five states are endemic to various forms encephalitis.
Years of repeated outbreaks have contributed to poor health outcomes for children, particularly in states such as Uttar Pradesh and Bihar.
The figure of households provided tap water in these districts is a milestone, an official of the Jal Shakti ministry said, requesting anonymity.
"This represents a 32% increase in household tap water connections in the 61 priority districts, about 12% higher than the national average increase of 23.43% in providing tap water connections in the country during the past 22 months," the official added.
This is the fastest pace yet in covering a priority segment within the overall target of providing every rural household with a functional water tap by 2024 under the Jal Jeevan Mission.
Experts say better sanitation and clean drinking water are essential to lessen the disease burden, although the encephalitis syndrome is caused by a clutch of vectors.
Acute encephalitis syndrome, which includes Japanese encephalitis (JE), is caused by different types of viruses, bacteria, parasites, fungi and spirochetes.
Vaccines are the mainstay of preventing JE, part of a federal intervention in these districts, but there is little check on other strains.
"The absence of clean drinking water aggravates encephalitis syndrome because unsafe water is a cause of malnutrition. When malnourished children are afflicted, they either take longer to recover or have poorer chances of survival," said Lokesh Nath, a former in-charge overseeing the National Vector Borne Disease Control Programme in Uttar Pradesh's Bareilly, one of the hotspots.
Encephalitis syndrome is a serious public-health problem in India, said KN Bhilegaonkar of the ICAR-Indian Veterinary Research Institute, Pune, the author of a study of the disease's prevalence in Bareilly district.
According to the National Vector Borne Disease Control Programme, between 2007 and 2016, over 70,000 cases were reported from the endemic districts.
More than 30,000 children have died of encephalitis in the past three decades.
A 2010 report by the erstwhile Planning Commission had stated five broad measures to tackle encephalitis: vaccination, vector control, sanitation facilities, safe drinking water and adequate nutrition, Nath said.
The five states most vulnerable to the syndrome include Assam, Bihar, Tamil Nadu, Uttar Pradesh and West Bengal.
Official data shows that when the Jal Jeevan Mission began in 2019, nearly 800,000 or 2.67% households in the 61 districts had access to tap water supply.
At the end of last month, an additional 9.7 million families were provided access to tap water, taking the total number to slightly over 10 million, or 35% of total households.
However, progress has not been equal in all five states, data shows. With 15 encephalitis-endemic districts, Bihar comes out on the top.
The state, on average, has provided tap water connection to 85.53% of households.
Topics
Close