12 dead as rain wreaks havoc across northeast
Flash floods swept away ten people in Mizoram while two persons were electrocuted in a flooded street in Guwahati.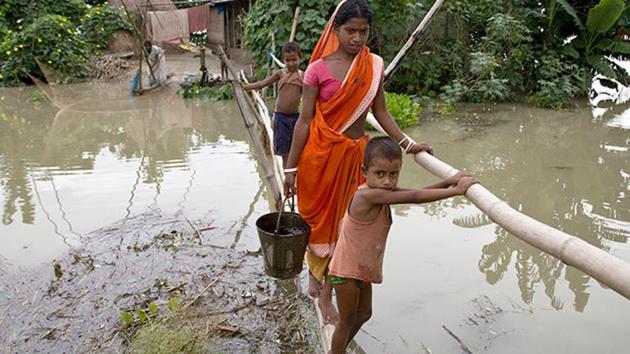 Updated on Jun 13, 2017 11:29 PM IST
Heavy, non-stop rain lashed large swathes of the Northeast leaving at least 12 people dead on Tuesday. The weather condition also forced Union home minister Rajnath Singh, who was on a two-day visit to Mizoram, to cancel his scheduled trip to the India-Myanmar border areas.
Flash floods claimed 10 lives in Mizoram's Lunglei district bordering Bangladesh and Myanmar while two people, including a minor, were electrocuted on a flooded road in Guwahati.
Officials in Mizoram said heavy rainfall since Sunday morning caused flash flood in Lunglei district where river Karnafulu and its tributaries were flowing above the danger mark. Thairungkai village in the district bore the brunt of the sudden rush of water that swept away the 10 people along with some houses.
With weather hampering rescue operations, only four bodies could be recovered so far.
"Apart from Lunglei, Aizawl and Serchhip districts have been affected with almost 450 houses either submerged or damaged by floods and landslides," Mizoram's health minister Lal Thanzara said.
Some 50 families hit by landslides in state capital Aizawl were evacuated to safer locations, he said.
Officials said National Highway 306, the state's lifeline running from the northern to the southern end, has been cut off at many places due to landslides.
Rajnath Singh, who reached Aizawl on Monday for a security-related meeting of states bordering Myanmar, had to make a change of travel plan on his way back to Delhi on Tuesday. He had to take the road to Lengui airport, 35km from Aizawl, as the chopper could not take off.
"The rains and landslides have badly affected communication, particularly road connectivity. The state's disaster management authorities have taken all measures to evacuate the affected and provide relief to them," ruling Congress spokesperson David Sangliana said.
In Guwahati, a class 8 student of a private school and a rickshaw puller were electrocuted when their rickshaw came into contact with a live wire in the city's flooded Zoo Road area.
"ADC (additional deputy commissioner) Palash Pratim Bora has been entrusted to probe the incident and submit a report while Rs 4 lakh has been announced as ex-gratia compensation for the victims' families," deputy commissioner M Angamuthu told HT.
All schools and colleges in the city have been asked to remain closed as large areas have been inundated, he added. The flooded areas include the complex where Assam's legislators stay.
Manipur and Meghalaya too experienced floods and landslides with many houses and roads having been damaged. Several relief camps have been set up in Manipur's Imphal Valley and in some affected hill districts.
According to the Indian Meteorological Department, rain or thundershower is like to occur across seven contiguous states in the Northeast in the next 72 hours. District officials in Assam said the water level of the Brahmaputra and its tributaries were rising alarmingly.
Close Story