12 injured, 8 bikes set ablaze in clash over water in Hisar's Hansi sub-division
It all started when villagers and irrigation workers started filling an empty water-box using a pipeline from Putti canal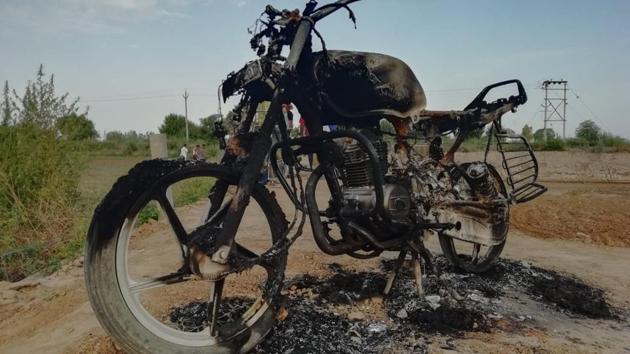 Updated on Jun 27, 2018 12:31 PM IST
A clash between people of two villages under the Hansi sub-division of Hisar district left the residents perplexed on Monday late night. The clash broke out over filling water from a canal to irrigation department's water channel on Monday late night.
It turned so violent that eight bikes were set ablaze and 12 villagers received injuries, including husband of the village sarpanch.
Meanwhile, heavy police force has been deployed in the village, led by deputy superintendent of police (DSP) Narender Kadian, to bring the situation under control and to restore law and order in the village.
Giving information, the DSP said, "A clash broke out suddenly between residents of Dhani Peeranwali and Putti Mangal Khan villages over filling canal water. Police have started proceedings to register cases against the accused. No arrests have been made so far."
Sources said it all started when villagers of Dhani Peeranwali village and irrigation workers started filling an empty water-box using a pipeline from Putti canal.
It has been alleged that the villagers of Putti Mangal Khan reached the spot with other villagers and opposed the move and asked the irrigation department people to show proper documents of filling water from the canal to water channel.
The husband of the sarpanch, Mahender Kumar, irrigation department's worker Mahesh Kumar, Ravi Kumar, Radhey Shyam, (all injured in the incident) told the police that villagers of Putti Mangal Khan attacked them and set their motorcycles ablaze and fled from the spot.
Sub-divisional officer (SDO) Anand Garg told the police that filling of the water-box is important to provide water to other villagers and the department was doing so with proper documents, but some unidentified villagers attacked other villagers and also injured the workers of the irrigation department.
Assistant sub-inspector (ASI) Jogender Singh, who is investigating the matter, said, "It is a serious matter and we are investigating into it."
Close Story