Relative of Rashtrapati Bhavan staff tests Covid-19 +ve, 125 quarters sealed
Delhi has the second-highest numbers in the country after Maharashtra with more than 2500 Covid-19 cases as of Tuesday morning.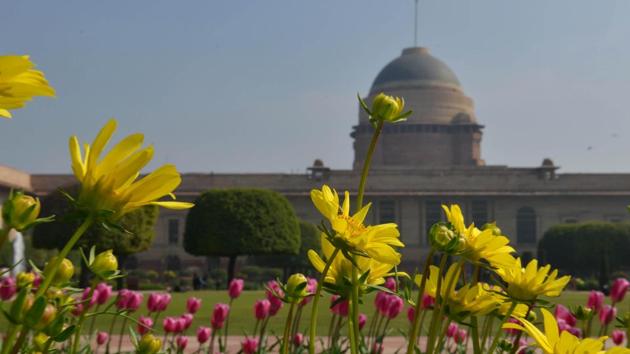 Updated on Apr 21, 2020 12:49 PM IST
At least 125 staff quarters inside the Rashtrapati Bhavan complex have been sealed and its inhabitants told to strictly maintain self-isolation after a relative of a staff tested positive for the coronavirus disease (Covid-19), officials said on Tuesday.
The daughter-in-law of a sanitation worker of Rashtrapati Bhavan tested positive after she came in contact with her mother.
The older woman died because of Covid-19 related complications at a private hospital near Karol Bagh seven to eight days ago, a Rashtrapati Bhavan official said.
Follow latest updates on coronavirus here
"After we came to know that the lady's mother died with Covid-19 complications and she had visited her, we sent the entire family at a government-run isolation facility near Birla Mandir. The staff's house was sealed too," the official said.
As a matter of abundant precaution, the houses in that area were also cleaned and bleached in a bid to curb any possible spread of the virus that has already affected millions around the world.
Also Watch: Union ministers resume work from office amid lockdown
"All family members of the staff were tested for Covid-19. While everyone else came out to be negative, the daughter-in-law's test showed positive results," the official added, emphasising that no Rashtrapati Bhavan staff has been infected.
As the news of the relative of the Rashtrapati Bhavan staff testing positive for Covid-19 reached the secretariat, a quick decision was taken to seal all the 125 houses in that area.
"Our staff living in those houses have been told not to go out and only one person from each family has been allowed to come out to buy groceries and essential items from the store inside Rashtrapati Bhavan while strictly adhering to social distancing and other health norms," said an official.
Last month, President Ram Nath Kovind cancelled all his engagements indefinitely after it came to light that BJP lawmaker Dushyant Singh, who attended the breakfast meeting with him at Rashtrapati Bhavan, had partied with Bollywood singer Kanika Kapoor.
Click here for complete coronavirus coverage
Kapoor tested positive for Covid-19 and later discharged from hospital after testing negative.
Singh, son of former Rajasthan chief minister Vasundhara Raje, had attended a conference with Kovind five days after attending the party. Both Singh and his mother Vasundhara Raje went into self-quarantine.
Delhi has the second-highest number of cases in the country after Maharashtra with more than 2500 Covid-19 patients as of Tuesday morning.
The rising number of cases in the national capital has prompted the Delhi government to increase the number of containment zones to 84, up from the 79 notified on Sunday.
India reported that the number of Covid-19 cases across the country crossed the 18,000 mark on Tuesday morning with 1336 new cases, including 590 deaths.
Also read: India's Covid-19 cases cross 18,500, death toll at 590
Close Story