17 still trapped in Meghalaya coal mine, says survivor
Sayeb Ali, the 21-year-old survivor, had joined the ill-fated Meghalaya mine only 12 days before the tragedy. "I was working at another mine in the area earlier," said the 21-year-old, who started working in coal mines as a child and has been engaged in this work for the last eight years.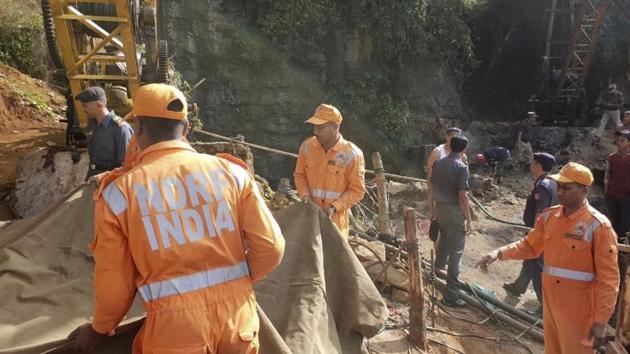 Updated on Dec 18, 2018 12:07 AM IST
Hindustan Times, Shillong/Guwahati |
David Laitphlang and Sadiq Naqvi
There are 17 people trapped inside the coal mine, claims a survivor of the December 13 accident in the East Jaintia Hills district of Meghalaya, even as the rescue teams continued their efforts. The district administration and police said there were 13 people trapped in the illegal coal mine,when it got flooded last Friday.
"There were 22 people in all. Five of us were on the ground while 17 others were busy cutting coal," said Sayeb Ali, 21, from Panbari village in the Chirang district of Assam. 'Ground' refers to the landing area inside the mine. "There are three others from my village alone, who are still trapped," he said.
"I was about five feet away from the ground that morning and on my way up, when I suddenly felt a lot of air and then saw water," Ali said. "I caught on to the wire and managed to climb upwards till the people outside sent in a carriage," he recalled. "I was all drenched," he said. "The water helped to push me out," he claimed, adding that "four others on the ground" were also rescued. "They are in Meghalaya," he said. Ali had joined the ill-fated mine only 12 days before the tragedy. "I was working at another mine earlier. There is no safety. They are illegal but there is definitely more money," he said. "A daily wager or a mason only gets ~300 a day in Assam whereas even the junior most miners get ~600 and experienced miners even ~1,500 to ~2000 a day. I manage to make ~4,500 to ~5,000 a week," Ali said.
Meanwhile, a National Disaster Response Force official said 70 NDRF and 22 State Disaster Response Force Personnel including deep divers, along with sniffer dogs and equipment were engaged in the rescue efforts, even as the efforts to pump out water remained unsuccessful.
3 die in Korba
Three workers of the South Eastern Coalfields Limited (SECL), including a mining supervisor, were died allegedly of asphyxia in a non-functional tunnel of an underground coal mine in Chhattisgarh's Korba district, a company official said Monday.The accident took place in Bagdewa coal mines of SECL, a subsidiary of Coal India Limited, when mining work was underway, its area general manager JP Dwivedi said, adding, the deceased were identified as mining supervisor Laxmikant Prasad, workers Ramadhar and Ajay.
(With agency inputs)
Close Story