Six killed, 18 injured in explosion at Pulgaon Army depot in Maharashtra's Wardha
At least six people were killed and 18 injured in an explosion on Tuesday at Pulgaon Army depot in Wardha, Maharashtra.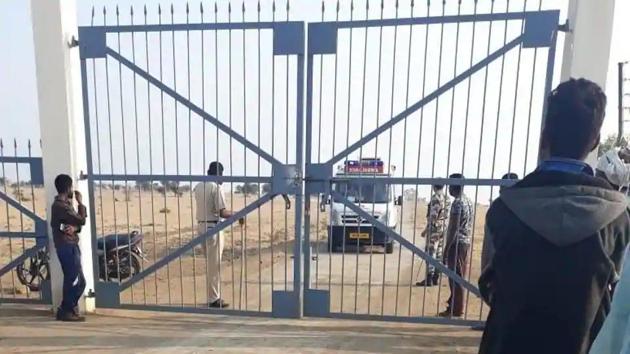 Updated on Nov 20, 2018 06:10 PM IST
Hindustan Times, Nagpur |
Pradip Kumar Maitra
At least six people were killed and 18 injured in a massive explosion at the Central Ammunition Depot (CAD) at Pulgaon in Maharashtra's Wardha district on Tuesday morning.
This is the second major blast in the depot, around 110 km from Nagpur, in the last two years. In May 2016, 13 persons were killed in a major fire in the depot while disposing off explosives.
According to reports, the incident occurred when ordnance factory personnel and contractual labourers were destroying unused rounds of 23 mm Shilka anti-aircraft ammunition. The operation was happening under the technical supervision of the CAD staff and contract workers were engaged too, according to Nagpur-based defence spokesman Captain BB Pande.
"Today morning at 7.10 am while carrying out the demolition of old explosives by the staff of ordnance factory Khamaria, Jabalpur, there was an accident. The demolition was being carried out in the demolition land under the jurisdiction of central arms depot, Pulgaon. While carrying out the demolition, there was an accident (sic) ," he said.
"The officials of ordnance factory Khamaria, Jabalpur and of ordnance factory Chandrapur rushed to the spot," he added.
The remaining stocks of the ammunition, manufactured at ordnance factory Khamaria in Madhya Pradesh's Jabalpur, had been brought to CAD Pulgaon for disposal as it had the expertise and also the space needed to carry out the operations. The demolition of the explosives was carried out by the staff of ordnance factory Khamaria with the help of an authorised contractor, whose service were used for digging the pit and placing a sand bag over the explosives.
Out of the six people killed in the blast, two bodies were charred beyond recognition, said reports. The deceased, who included an army personnel, one from the Khamaria ordnance factory and four contract labourers, were identified as: Narayan Shamrao (55), Vilas Lakshman (40), Uday Virasingh (37), Pravin Prakash Munjewar (25), Rajkumar Bhovate (23) and Prabhakar Ramdas Wankhede (40).
The injured were rushed to the nearby Jawaharlal Nehru Medical College and Hospital at Sawangi in Wardha district, where three of them are reported to be critical.
Pulgaon in Wardha houses the largest weapons stockpile in the country. These stocks include assorted weaponry including bombs, grenades, shells, rifles and other explosives. All the ordnance produced in different factories arrives at this facility before it is sent out to various forward bases.
Close Story