Yasin Bhatkal, 4 others sentenced to death for 2013 Hyderabad blasts
Indian Mujahideen operative and four other men were given death penalty by a NIA court on Monday in the 2013 Hyderabad twin blasts case.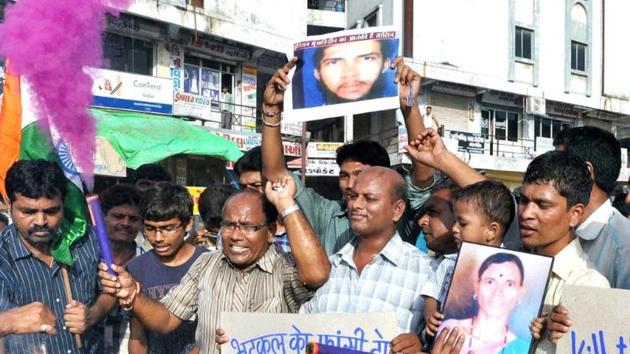 Updated on Dec 19, 2016 07:08 PM IST
An NIA court sentenced to death banned terror outfit Indian Mujahideen founder Yasin Bhatkal and four others on Monday for orchestrating twin blasts in Hyderabad three years ago that killed 19 people and injured 130.
The five operatives -- Yasin Bhatkal alias Mohammad Ahmed Siddibappa, Asadullah Akthar alias Haddi, Pakistani national Zia Ur Rehman, Mohammad Tahseen Akhtar alias Monu and Ajaz Shaikh – were held guilty by a special National Investigation Agency court on December 13.
But the prime accused in the case – Yasin's brother Riyaz Bhatkal alias Shah Riyaz Ahmad Mohammed Ismail Shahbandari – is on the run and is said to be in Pakistan.
"The NIA court felt that the twin blasts case falls in the category of rarest of rarest crimes and hence, all the five accused are liable for death sentence," the National Investigation Agency (NIA) advocate told reporters.
This is the first conviction of any operative belonging to the home-grown terror outfit that is accused in a string of explosions, including the 2008 Delhi bombings, the 2010 Varanasi blasts and the 2010 Pune bombings.
A copy of the judgment will be sent to the Hyderabad high court to confirm the sentence. "The convicted will be given an opportunity to appeal in the Supreme Court," the NIA advocate added.
Monday's sentencing brought to an end a year-long trial in which the NIA produced 158 witnesses, 201 pieces of material evidence and furnished over 500 documents.
Besides the death sentence, the NIA court also imposed penalties ranging from Rs 5,000 to Rs 10,000 on each of the five convicts for the blasts that rocked Dilsukhnagar, one of Hyderabad's busiest commercial districts, on February 21, 2013.
"It also asked the government to provide adequate compensation to the families of the blast victims," the advocate said.
The NIA told the court Riyaz arranged for explosive substances and directed Asadullah Akhtar and Zia-ur-Rahman at Mangalore to receive the same and paid them through hawala channels.
Asadullah Akhtar, Waqas and Tahseen Akhtar prepared two improvised explosive devices as well as two cycles for mounting the IEDs, the agency had said. After making the IEDs on February 21, 2013, the accused mounted two bombs on two bicycles.
Before the sentence was pronounced, the defence defence lawyers submitted two letters to the court seeking for fresh trial as they were not convinced with the way the investigation was done. The judge, however, did not take these letters into cognizance, the advocate said.
Six months after the blasts, Yasin and Asadullah were arrested from an area in Bihar close to the Nepal border. Three other suspects were arrested subsequently and the NIA filed two chargesheets against the five accused.
(with agency inputs)
Close Story