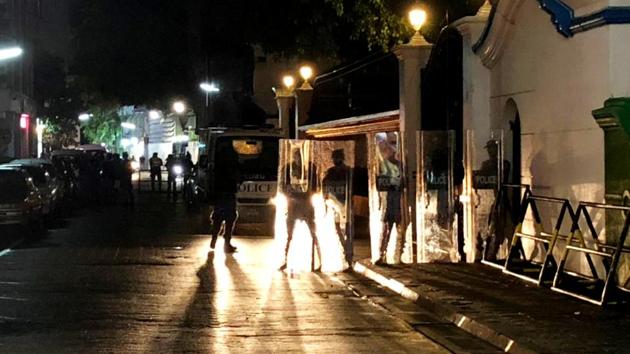 Three reasons why the crisis in Maldives has India worried
India is closely watching the Maldives crisis which has geographic and strategic consequences for the region as it is home to some 22,000 Indians.
UPDATED ON FEB 06, 2018 11:01 PM IST
Maldives President Abdulla Yameen declared a 15-day state of emergency on Monday, deepening the political crisis in the Indian Ocean nation.
A few hours later, the country's top judge was arrested on Tuesday as security forces stormed the supreme court at dawn, bringing to a head the confrontation between Yameen and the judiciary.
Yameen has refused to comply with the court's order to release political prisoners, arrested after he came to power in 2013, which has pitted his administration against the court and an unrelentingly united opposition.
The 58-year-old has chosen to ignore calls from many countries, including India, to implement the order that revoked terrorism charges against nine leading opposition figures including the country's first democratically elected president, Mohamed Nasheed, who is now in exile.
Maldives is home to some 22,000 Indians. Of the country's approximately 400 doctors, more than 125 are Indians. Similarly around 25% of teachers are Indians.
India is closely watching the crisis which has geographic and strategic consequences for the region, especially as Male cosies up to Beijing.
Three reasons why the tumult in the archipelago of around 1,200 islands, most of which are uninhabited, has India worried:
1: Geographic proximity
A Saarc member country, the Maldives sits just 700km from Lakshadweep island chain and some 1,200km from the Indian mainland.
A weakened Maldives could prove a fertile ground for extremism and religious fundamentalism, piracy, smuggling and drug trafficking – all major security worries for New Delhi.
The constant political churn in the country, which gained independence in 1965 after years of British rule and held its first free and multi-party elections in 2009, is also a concern.
2: The Indian Ocean stability
The Indian Ocean region hosts more than 40 states and nearly 40% of the world's population. It touches Australia, Southeast Asia, South Asia, West Asia and the eastern sea bend of Africa. The Maldives is an important country for India in the region.
More than 97% of India's international trade by volume and 75% by value passes through the Indian Ocean. Secure sea lanes are crucial for India.
3: Growing Chinese presence
China is rapidly expanding its footprint in the Maldives though it opened an embassy in the island nation only in 2011. The archipelago nation is the only Saarc country, other than Pakistan, to have a free trade pact with China.
President Xi Jingping's visit gave a big push to the ties while the Maldives is the only Saarc country that Indian Prime Minister Narendra Modi has not visited.
The country is an eager partner in the Chinese leader's signature one road one belt project. Beijing is investing big on infrastructure and projects such as a bridge linking Male to Hulhule Island are an example of growing Chinese influence.
The way the free-trade pact was pushed through parliament without any discussion was another example of Yameen's keenness to strengthen relationship with Asia's biggest economy.
China also accounts for most tourists visiting the Maldives.
In August 2017, Chinese warships were allowed to dock in Male. Amid growing friction over a host of factors, Maldives foreign minister Mohamed Asim visited India recently and met Prime Minister Modi and external affairs minister Sushma Swaraj.
The visiting leader "reaffirmed his government's India First policy and emphasised that Maldives attached the highest priority to its ties with India", the external affairs ministry said in a statement.
But the developments of the last few days are hardly reassuring for New Delhi.
Close