50 kg ganja seized from Rajdhani Express in Bihar, three arrested
May 03, 2017 05:01 PM IST
Three persons, travelling in A-4 coach of the premier train, were arrested with the consignment kept in three bags near Chapra junction in Bihar.
A team of Railway Protection Force (RPF), escorting the Dibrugarh Town-New Delhi Rajdhani Express, arrested three persons and seized nearly 50 kg cannabis or ganja from the train near Goldinganj station in Bihar's Saran district on Tuesday night.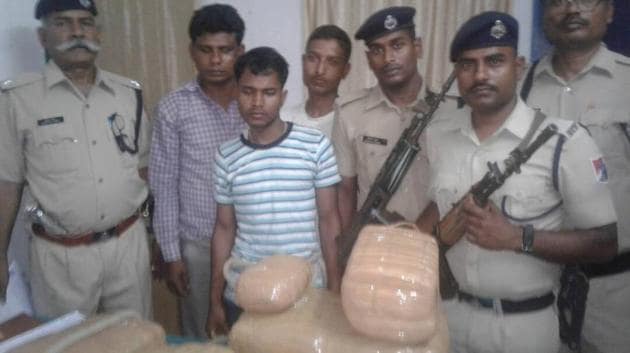 The contraband was recovered from A-4 coach as the premier train was approaching its next stoppage Chapra, about 80 km north of state capital Patna, on Tuesday night, an RPF officer said.
Three passengers were arrested with the illegal consignment, Jawed Ahmad, inspector of RPF police station at Naugachia in Bhagalpur district, 239 km east of Patna, said.
The train was being escorted by securitymen from Naugachia RPF police station, Ahmad added.
READ: 13 tonnes ganja seized in Patna
He said the RPF team searched the belongings of passengers travelling on berth number 2, 4 and 6 on suspicion and recovered the contraband concealed in three bags.
The arrested persons, identified as Mithun Majumdar, Samadul Haque and Rasiful Haque, all residents of Cooch Behar district in West Bengal, were handed over to government railway police at Chapra junction, Ahmad said. An FIR was also registered in connection with the recovery at Chapra, he added.
READ: 213 kg Manipuri ganja seized in Bihar
The cost of 50kg ganja was between Rs 50 lakh and Rs 60 lakh in the market, excise superintendent Din Bandhu, posted at Muzaffarpur in north Bihar, said.
The RPF officer said rail route was commonly used to smuggle ganja from northeastern states to Delhi and beyond.
A few months ago, three persons, including two women, were arrested at Naugachia station with 35kg ganja. They were arrested before they could board the Delhi-bound Awadh Assam Express, Bhola Mahato, SHO of Naugachia GRP, said.