8 newborns die in less than 24 hours in Assam govt hospital
Updated on Oct 05, 2017 11:43 PM IST
Authorities denied negligence on the part of the doctors and the hospital staff, and claimed that most deaths were due to low birth weight.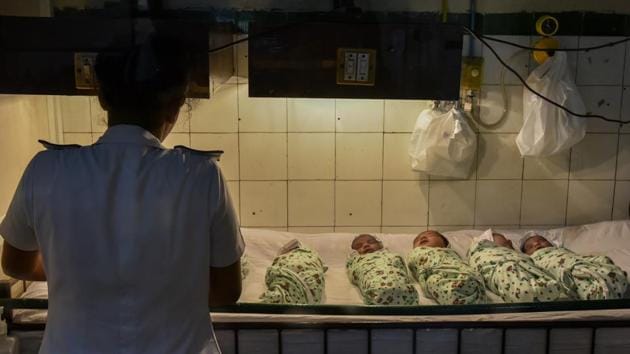 Eight newborns died at Fakhruddin Ali Ahmed Medical College and Hospital in Barpeta in Assam since Wednesday night.
Five newborns, aged between 2 to 4 days, died at the government hospital located nearly 100 km west from the state capital on Wednesday night while three other deaths took place on Thursday.
The hospital authorities, however, denied any negligence on the part of doctors and hospital staff, and said the deaths were due to various other factors like low birth weight of the newborns.
"Low birth weight is primarily the cause of the deaths," Prof (Dr) Dilip Kumar Dutta, principal cum chief superintendant of the hospital, told HT over phone.
Talking to local news channels Dr Dutta denied any technical glitch behind the deaths of the newborns — all of whom were kept at the neonatal intensive care unit (NICU) of the hospital.
"In many cases, there's very little antenatal care during pregnancies. This leads to very low birth weights of newborns. Of the deaths, most weighed below 2.5 kilos at birth and one newborn was less than a kilo," Dr Dutta said.
He said that on an average, 1-2 deaths of newborns take place daily in the hospital and it was just a "coincidence" that the number shot up between Wednesday and Thursday.
State health minister Himanta Biswa Sarma also gave a clean chit to the hospital authorities and stated most cases were due to low birth weights.
"I have asked the director of medical education to conduct and inquiry," he told journalists.
The incident reminds of the deaths of more than 30 children in 48 hours in Uttar Pradesh's Gorakhpur in August.
As per 2016 data released by the Union health ministry last week, Madhya Pradesh with 47 deaths per 1000 births recorded the highest infant mortality rate (IMR) in India.
Assam and Odisha with 44 deaths were placed second in the list followed by Uttar Pradesh (43) and Rajasthan (41).
Close Story
Personalise your news feed. Follow trending topics