A Burhan Wani aide who kept low profile: Who was Sabzar Bhat?
May 27, 2017 08:28 PM IST
Sabzar Bhat's run as a militant ended in just two years. The 27-year-old Bhat, an aide of slain Hizbul commander Burhan Wani, was a member of the new-age tech savvy local Kashmiri militants.
Sabzar Bhat picked up a gun in April 2015 to become a militant. He lasted barely two years.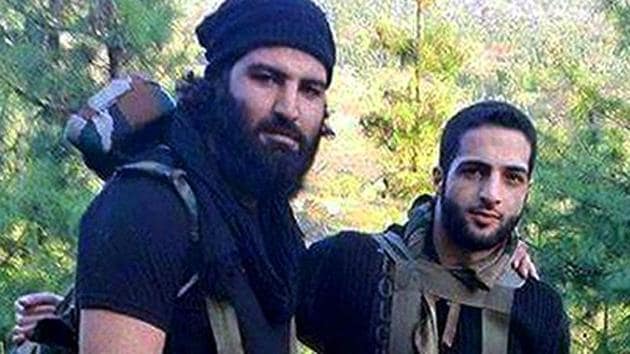 But by the time he was killed on Saturday, police say the 27-year-old had a reward of Rs 10 lakh on his head.
Bhat was a close aide of Hizbul Mujahedeen (HM) commander Burhan Wani, who was gunned down in south Kashmir by security forces in July last year. He joined the ranks of militants around the time Wani's brother Khalid Muzaffar Wani was killed by security forces.
The army had then said that Khalid was killed in an encounter in Buchoo forest area after a patrol came under fire from militants and that he was an over-ground Hizbul worker. Khalid's family had claimed that he was innocent but was "tortured to death" for being Burhan's elder brother.
Bhat was quite close to Wani with some reports even suggesting that he was the one Wani trusted the most. In a photo that was widely shared on social media the two were seen standing together, Wani with his short hair and trimmed beard and Bhat with a thick beard and wearing a woolen cap.
Bhat and Wani belonged to the first batch of tech-savvy new-age local militants in Kashmir. Bhat also featured in the infamous photograph of 11 militants with Wani at the centre of it – the photograph which signaled the rise of this new batch of militants.
But unlike Wani, Bhat kept a low profile on social media. After Wani was killed, news went around for some time that Bhat would possibly be named by Hizb as the successor. But the militant body finally named one Mehmood Gaznavi as its new commander in Kashmir.
And while militant Zakir Musa – who recently made headlines after threatening to behead separatists and then announcing a departure from Hizb – routinely uploaded video messages on social media, none had come from Bhat himself.
But absence from social media did not dent his support base, particularly among the youth in south Kashmir.
Local sources say Bhat, a native of Rathsuna village in Tral, has participated in many stone-pelting protests in the area before joining militant ranks. Many referred to Bhat as "Sab Don", sources add. As a militant, Sabzar operated in south Kashmir, in and around Tral.
Police sources say that before he became a militant, he was accused of theft.
In March, Bhat was trapped in a gunfight with security forces in Tral, according to police sources. Two militants and a policeman were killed in that fierce 18-hour gunfight.
He managed to escape only after people from neigbouring villages threw stones at security personnel to disrupt the counter-insurgency operation. That reprieve did not last long. Two months later, Bhat's luck ran out.