A look at some of the major cyclones in India
New Delhi |
HT Correspondent
Oct 10, 2018 05:46 PM IST
Cyclones Ockhi (2017), Phailin (2013) and the Odisha cyclone in 1999 caused several casualties, ravaged towns and villages and caused massive destruction to property.
Cyclone 'Titli' over the Bay of Bengal intensified into a severe cyclonic storm on Wednesday and is moving towards the Odisha-Andhra Pradesh coast, triggering rainfall in several parts of Odisha, the India Meteorological Department (IMD) said.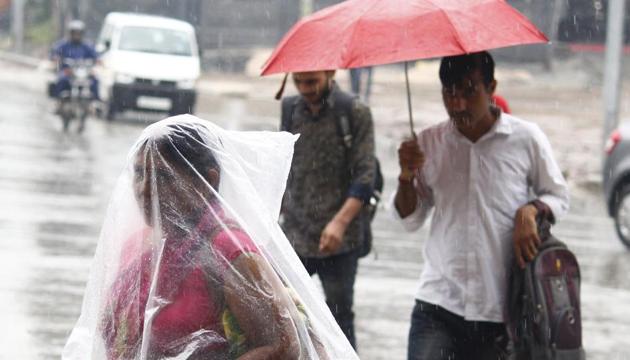 The cyclonic storm is likely to make a landfall between Gopalpur in Odisha and Kalingapatanam in Andhra Pradesh early on Thursday morning at a wind speed of 145 kmph, it said.
Here's a look at earlier cyclones in India and their impact:
Ockhi, 2017
Cyclone Ockhi, which formed as a depression over southwest Bay of Bengal on November 29, 2017, intensified into a cyclone off the Kanyakumari coast in Tamil Nadu on November 30 and travelled up to the Gujarat coast before it dissipated on December 6 after weakening into a low pressure area.
Ockhi is the first severe cyclonic storm in almost 40 years to have travelled about 2,400 kilometres from the Bay of Bengal to as far as the Gujarat coast, a senior Met Department official had said.
— Toll
The cyclone killed 365 people, according to information shared by the ministry of home affairs in Parliament.
Phailin, 2013
Phailin was the second-strongest tropical cyclone ever to make landfall in India, behind only the 1999 Odisha cyclone. The system started off on October 4, 2013 within the Gulf of Thailand, to the west of Phnom Penh in Cambodia. Over the next few days, it moved westwards and emerged into the Andaman Sea.
During the next day Phailin intensified rapidly and became a very severe cyclonic storm on October 10, equivalent to a category 1.
On October 11, the system became equivalent to a category 5 hurricane before it started to weaken during the next day as it approached Odisha. It made landfall later that day, near Gopalpur in Odisha coast at around 9.30 PM and subsequently weakened.
— Biggest evacuation
The cyclone prompted India's biggest evacuation in 23 years with more than 550,000 people moved up from the coastline in Odisha and Andhra Pradesh to safer places. Most of the evacuated people were sheltered in 500 specially-built cyclone camps in the two states.
— Toll
Massive evacuation kept the toll down. Around 30 people died in the cyclone
Also read: Cyclone Titli LIVE: Odisha orders evacuation of coastal areas, train services affected
Odisha cyclone, 1999
The 1999 Odisha cyclone, also known as Cyclone 05B, and Paradip cyclone, was the strongest tropical cyclone ever recorded in the North Indian Ocean.
It was also the deadliest tropical cyclone in the Indian Ocean since the 1991 Bangladesh cyclone, and deadliest Indian storm since 1971.
The Category Five storm made landfall just weeks after a category 4 storm hit the same general area. It was a tropical depression formed over the Malay Peninsula on October 25.
It moved to the northwest and became a tropical storm on October 26. It continued to strengthen into a cyclone on October 27. On October 28, it became a severe cyclone with a peak of 160 mph (260 km/h) winds.
It hit India the next day as a 155 mph (250 km/h) cyclone.
— Toll
It caused the deaths of about 10,000 people, and extreme damage in its path of destruction.