'Very severe' cyclone Titli set to make landfall within the hour, Odisha braces for storm
Hindustan Times, Bhubaneshwar |
Debabrata Mohanty
Oct 11, 2018 07:20 AM IST
The IMD has also predicted the cyclonic wind to chew away a large part of Andhra Pradesh districts like Visakhapatnam, Vizianagaram and Srikakulam and Odisha districts of Gajapati, Ganjam, Puri and Kendrapara.
Very severe cyclonic storm Titli, the strongest cyclone formed on Bay of Bengal this year, is set to make landfall near Gopalpur coast in coastal Ganjam district within the hour with maximum sustained wind speed of 140-150 km per hour gusting to 165 km per hour. (Follow live updates here)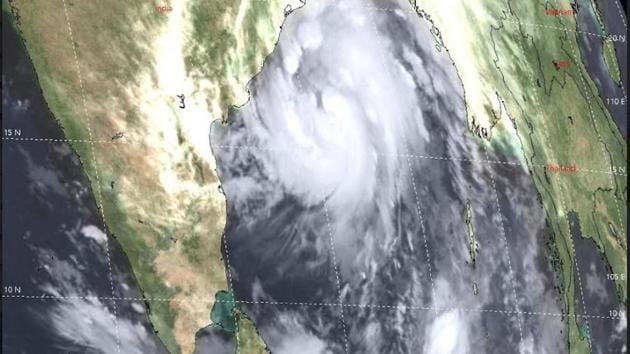 Schools and other educational institutions have been closed across the state, and lakhs of people have been evacuated while armed forces are on standby.
As the cyclone moved across the Bay of Bengal towards the Indian coastline where it is likely to make landfall between Odisha's Gopalpur and Andhra Pradesh's Kalingapatanam around 6.30 am at a wind speed gusting up to 165 kilometres per hour, there was heavy rainfall in many parts of Odisha under its influence.
"Titli moved with a speed of about 15 kmph and intensified into a very severe cyclonic storm and lay centred over the west-central Bay of Bengal, around 200 km south by southwest of Gopalpur," the India Meteorological Department (IMD) said in a bulletin on Wednesday evening.
The Joint Typhoon Warning Centre of the US Navy also said the cyclone continued to rapidly consolidate and indications of a nascent eye beginning to form.
According to the IMD, Cyclone Titli intensified further into a very severe cyclonic storm during at 11.30 am on Wednesday and may lead to waves rising up to 1 metre on the coast. Under its impact, heavy rains had already started in Ganjam, Gajapati, Puri, Balasore and Kendrapara districts.
"With a sustained windspeed of 140 km per hour, Titli would hit the coast around 5.30 am on October 11 and then rage on for next 5-6 hours with a similar force. It would however gradually weaken and re-curve northeastwards and move towards Gangetic West Bengal across Odisha by Thursday afternoon," said HR Biswas, Director of Bhubaneswar Meterological Ofiice
The regional meteorological department in Kolkata also warned of intense spells of thundershower accompanied by gusty wind in six south Bengal districts for the next four days, triggered by Titli even as brief rain played spoilsport amid heightened Durga Puja preparations across the state, as per IANS.
IMD has also predicted the cyclonic wind to chew away a large part of Andhra Pradesh districts like Visakhapatnam, Vizianagaram and Srikakulam and Odisha districts of Gajapati, Ganjam, Puri and Kendrapara.
It advised fishermen to suspend their operations and said coastal hutment dwellers must shift to safe places. Fishermen along the Odisha coast and central and north Bay of Bengal were advised not to venture into sea till Friday.
In view of the adverse weather conditions, it has advised hoisting of local warning signal LW-4 at all ports of Odisha.
The Odisha government was also cautioned about the possible flooding in view of the heavy rainfall across the state. It has already issued a high alert in all districts, particularly those in the coastal region, to face the ensuing situation and geared up to face the situation setting a target of "zero casualty".
Chief minister Naveen Patnaik said that over three lakh people from the five coastal districts of Ganjam, Puri, Khurda, Jagatsinghpur and Kendrapara have been evacuated to safer places as a precautionary step.
After holding the second review meeting at the office of the Special Relief Commissioner (SRC), he said, "If required, more people will be evacuated to safer places", reported PTI.
Special Relief Commissioner Bishnupada Sethi said collectors of 17 of the state's 30 districts have been put on red alert, the highest state of emergency preparedness, over the possibility of heavy to very heavy rainfall under the impact of Cyclone Titli from Thursday.
Read | Cyclone Titli upgraded to 'very severe storm': What cyclone categories mean
These districts are Ganjam, Gajapati, Puri, Kendrapara, Jagatsinghpur, Balasore, Bhadrak, Dhenkanal, Kandhamal, Boudh, Cuttack, Jajpur, Khurda, Nayagarh, Kalahandi, Koraput and Rayagada.
As many as 879 multi-purpose cyclone and flood shelters and 300 boats have been kept ready, teams of the National Disaster Response Force (NDRF) and Orissa Disaster Rapid Action Force (ODRAF) have also been positioned at different places for rescue operations and the three armed forces have also been put on alert.
The Centre has rushed nearly 1,000 NDRF personnel to Odisha, Andhra Pradesh and West Bengal Wednesday besides issuing directions for storage of food, fuel and maintaining power supply and telecommunication lines.The preparation for the cyclone was discussed at a meeting of the National Crisis Management Committee (NCMC), headed by Cabinet Secretary PK Sinha, as per PTI.
Odisha government also warned about possible flooding in view of the heavy rainfall across the state. Water resources secretary Pradip Jena said: "The most affected will be Rushikulya and Bansadhara river systems as they will come under the direct impact of the cyclone and experience heavy rainfall. But as there was no rainfall in these areas over the past 15 to 20 days, there is little to panic."
Odisha chief secretary AP Padhi said all schools and colleges in the state would be shut for the next two days, and the students union elections in colleges scheduled Thursday have also been cancelled.
He, however, said there was nothing to panic as Titli was weaker than the two previous cyclones -- Phailin in 2013 and Hudhud in 2014 -- that hit the Odisha coast.
State food supplies and consumer welfare minister SN Patro Wednesday appealed to the people not to go for panic buying as people not only bought extra provisions but also queued up at petrol pumps to stock up on fuel, reported PTI.
The minister also said he has instructed all district collectors to keep a tab on the market as a section of traders are allegedly attempting to hoard essential items.
The East Coast Railway zone meanwhile decided to stop movement of trains on the Chennai-Howrah section from this afternoon.
From 10 pm Wednesday, no trains would run between Khurda Road and Vizianagaram. Trains from Howrah/Kharagpur will not be allowed to run from Bhadrak after 5.15 pm. till further orders, said East Coast Railway in a bulletin. Some trains may be cancelled or may be cancelled partially as per the situation.
Sand art sculptor Sudarshan Patnaik mounted an art installation on Titli at Puri beach with the words "Do not panic! Have Courage".
This is the second cyclonic storm formed over the Bay of Bengal and hitting the east coast this year. The first one, Daye, hit Odisha and northern Andhra Pradesh last month