A state of protest: Why Tamil Nadu tops list of most protests in India since 2009
Grist media |
Kavitha Muralidharan
Apr 30, 2017 03:09 PM IST
The southern state has a rich history of protests. Some of Tamil Nadu's tallest leaders forged their political careers in protests. Government data shows that in the past decade, the state has topped the list of most protests held.
In every conference of the Dravida Munnetra Kazhagam (DMK), the tone is inevitably set by propaganda songs in playback singer Isaimurasu Nagoor Hanifa's shrill permeating voice. It's difficult to find a DMK cadre not overwhelmed to tears when Hanifa sings 'Kallakudi konda Karunanidhi Vaazhgave' (Long live Karunanidhi who conquered Kallakudi) in his inimitable style. Through these songs, the late Hanifa passes down to younger generations the story of legendary protests that made an ordinary Karunanidhi into Tamil Nadu's grand old man — Kalaignar.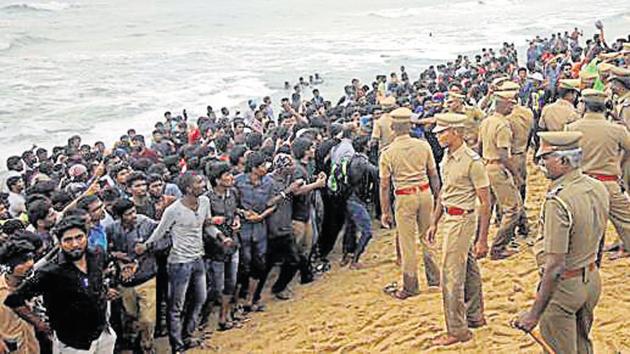 One of the protests that Hanifa sings about dates back to 1953. Back then when the DMK launched an agitation to change the name of a railway station in a small town near Tiruchi from Dalmiapuram (named after a North Indian industrialist) to Kallakudi (the original Tamil name), Karunanidhi did the unexpected. When protestors were pasting papers carrying the name Kallakudi all around, 29-year-old Karunanidhi and four others laid themselves on the tracks, just when a train was approaching. They were eventually arrested and remanded to jail and the protests were a defining moment in Karunanidhi's political career.
For political bards, it isn't that Tamil Nadu is exactly short of material these days.
Tamil Nadu farmers, protesting at Delhi's Jantar Mantar pressing for various demands, had recently resorted to dramatic steps from eating dead rats and drinking urine to running nude, all to attract the attention of the Centre.
In 2015, Tamil Nadu recorded the highest number of protests among all states. In that one year, the State recorded 20,450 protests while Punjab came a distant second with a little over 13,000 protests. (This is according to the data released early this year by Bureau of Police Research and Development, Ministry of Home Affairs.)
The two states that are conventionally considered as hotbeds of agitations don't even feature in the top 10 — Kerala registered 3,371 protests and West Bengal registered 3,089. Tamil Nadu has topped the list since 2009, when the ongoing anti-Sri Lankan protests rocked the state.
So what's keeping Tamil Nadu on boil?
A wee bit of backstory
On Chennai's Marina Beach, home to every manner of protest from the independence movement to Jallikattu in 2017, stands a statue of the woman who is arguably Tamil Nadu's most famous protester. Silappadikaram, one of the five great Tamil epics, is a testimony to the unfairness of rulers and the rebellion of Tamils. When its heroine Kannagi hears that her husband was wrongly accused of stealing the queen's anklets and is awarded the death sentence, she doesn't take it lying down. After proving her husband's innocence, she avenges him by burning down the city of Madurai.
More recently, Tamil Nadu's establishment that ruled the state for five decades is rooted strongly in the anti-establishment protests of the Dravidian movement, when Periyar started the 1925 self-respect movement against the oppressive Brahmin hegemony in the State. When his Justice Party launched a protest against then chief minister C Rajagopalachari's move to make Hindi compulsory in 1937, the protests (consisting of students conferences and rallies) lasted three years until compulsory Hindi was withdrawn. Not having learnt their lesson, the state made efforts to make Hindi the sole official language in 1965; the DMK led another round of anti-Hindi agitations in the State. The agitations which lasted for two months ended only after an assurance from then Prime Minister Lal Bahadur Shastri that English would continue as the preferred language for Centre-state and intrastate communications. The anti-Hindi agitations of 1965 were to the DMK what the Kallakudi protest was to Karunanidhi. In two years, the party came to power ending the Congress rule in the state.
DMK spokesperson KS Radhakrishnan is expansive on the subject. "Unlike in north India, the environment in the southern states are more conducive for people who wanted to step out on the roads and claim their rights. Tamil Nadu's character was essentially restive. Farmers protest in the state date back to the British era. The Vellore mutiny is one of the earliest examples. Periyar's defining influence has only added to the state's character. Our struggles are bigger than in any other state and in most struggles, we have managed to achieve some degree of success."
To others, even those who are not the political heirs of the Dravidian movement, the culture that the Dravidian movement created is what continues to keep dissent alive in Tamil Nadu. "I believe the Dravidian movement nurtures protests. Protests indicate an increased political awareness in the state and it is personally very heartening for me to know that Tamil Nadu protests more than any other state," says acclaimed writer and activist Salma. "Women leaders of the Dravidian movement also took active part in these protests. Leaders like Sathyavani Muthu (who used to carry her baby to meetings), Muthulakshmi and Moovalur Ramamirutham Ammaiyar has paved the way for us to follow."
But C Lakshmanan, professor with the Madras Institute of Development Studies has a more skeptical take. "Tamil Nadu is a highly fragmented society with many identity-based associations. For example, there are many caste associations and there are many protests by these organisations. Tamil Nadu is a depoliticised state, but protests happen sporadically and aren't consolidated enough; they largely have a negative impact (as caste-based organisations protests are seen as polarising the State)."
Salma contests this and says not all protests are identity-based. "Many protests are against the government and are an articulation of the frustration of the state's inefficiency to meet their demands or protect their interests."
The best example of this protest that Salma is talking about sprung up in 2011 in Idinthakarai, the tiny hitherto unheard village near Kudankulam that sat in protest against the proposed nuclear plants. The Kudankulam movement rewrote the diktats of protest movements in the state. About 8,800 cases, mostly sedition, was slapped on an entire village. "It was probably the first time when fisherfolk, women and children realised the dangers of a nuclear plant in their vicinity and protested. Like Gandhi said, they would lock their kitchens and come to the mandapam in the centre of the village and raise slogans against nuclear energy. This lasted for days, weeks, months and years. There was a lull in Tamil Nadu, before Idinthakarai went into protest mode. People were perhaps tired of nothing happening; they were perhaps disinterested about the ways of protests, but Idinthakarai inspired a lot of them," says G Sundarrajan, an activist with Poovulagin Nanbargal, the movement which handled the legal aspects of the Idinthakarai struggle. "Idinthakarai's was a struggle against the formidable system and the protestors knew they could never win against the Indian state. But for them, the protest itself was a victory."
Neduvasal, the tiny village near Pudukottai district emulated Idinthakarai when it launched protests to stop the hydrocarbon project that was announced by the Centre on February 15, 2017. After 22 days of protest, the people of Neduvasal temporarily suspended it, following talks with central and state governments. Unlike in Idinthakarai, the protests gained political momentum when parties cutting across lines began supporting the protest. "It is an indication of how things work," says Sundarrajan. "After jallikattu, the politicians are definitely thinking differently and do not want to be seen as indifferent to issues concerning the everyday lives of ordinary people. Neduvasal proves that."
R Sindhan, a young activist from CPM has a generationally agreeable response — social media. "A lot of youngsters vent their displeasure over social media and those with similar issues immediately connect. Jallikattu is a classic example. At one point, there were about 2 lakh protesters on Marina Beach and most of them were there because of social media." The jallikattu meme-generating cottage industry was a formidable one back in January.
On April 11, 2017, Tamil Nadu went to into a state of shock when visuals of Tirupur district's deputy superintendent of police Pandiarajan slapping a woman protesting against TASMAC began doing the rounds on social media. Weeks later, Tirupur came up with a fitting response. Photos of some women protesters demolishing a newly-constructed TASMAC shop went viral.
"It is obvious that women are not deterred by what had happened in Tirupur. In fact, I believe it is a form of retaliation to what had happened. Many women in the state have suffered because of it (TASMAC). They won't take it lying down anymore. I have been interacting with a lot of women and there is a simmering discontent among them over ubiquitous TASMAC shops. It is now coming out in open," says G Manjula, state deputy secretary of National Federation of Indian Women (NFIW).
But Sindhan has a warning. "Social media is also a double-edged sword. It doesn't have the same kind of impact on all people's struggles and it has its negative side too. A lot of fake messages go unchecked on social media. But we do have to admit that social media has filled up the vacuum created by mainstream media." Like the Kudankulam protests that were rousing on social media while being ignored largely by the mainstream national media.
While a lot of the national attention on Tamil Nadu's political culture has sharpened since J Jayalalithaa's death, the profusion of protests is not new or something that Jayalalithaa was unaware of. As a consummate politician she even gave it a happy spin. While speaking in the state assembly in September 2015, Jayalalithaa released the data on the number of agitations in the state in 2012 and claimed it was an indication of "flourishing democracy". She said, "While allowing the full expression of the democratic and constitutional rights of the public for assemblies and procession to air their grievances, the police in the state have been able to manage them in such a manner that the normal tenor of life is not affected, despite the fact that on an average 60 agitations are reported per day."
This was a nearly comic interpretation given Jayalalithaa's well-known tendency to slap defamation suits on activists, not to mention the sedition case she slapped on the activist-poet Kovan in 2015 for criticising her in verse. Kovan was arrested at around 2.30 am on November 1, 2015 and was released on bail about 15 days later. He continues to work with Makkal Kalai Ilakkiya Kazhgam (People's Art and Literary movement) composing folk songs against injustice and oppression.
Writer Salma argues that Jayalalithaa's death has charged the space for further dissent. "If Jayalalithaa was around, she would have wrapped up the jallikattu agitation in no time. Her absence is so conspicuous now in all the ongoing protests. I strongly feel in the post-Jayalalithaa scenario, the protests are here to stay and rise."
In mid-April 2017, seven students, including two from Coimbatore were arrested when they were travelling by train (they distributed pamphlets and played a folk instrument) to campaign against the Neduvasal hydrocarbon project. The two women in the group — Swathi and Valarmathi — told their lawyer S Raja that they were stripped naked more than six times by jail authorities in the first two days of their confinement. "They have been protesting against this but of no avail. This is being done to demoralise them, we know. They are now in solitary confinement against their wishes. The girls are brave. They told me they will continue the protests once they are out on bail."
(Published in arrangement with GRIST Media)
"Exciting news! Hindustan Times is now on WhatsApp Channels
Subscribe today by clicking the link and stay updated with the latest news!"
Click here!
Get
Latest India News
along with
Latest News
and
Top Headlines
from India and around the world