After 11-month shutdown, Kashmir train services may be partially restored
Feb 18, 2021 06:52 PM IST
The train in Kashmir runs in a standalone route from Banihal, the gateway to Kashmir in the south, to Baramulla in north Kashmir – a distance of 137 km.
After remaining suspended for around 11 months owing to Covid-19, the Railways authorities are considering restoring the train services partially within Kashmir in the last week of February, officials said Thursday.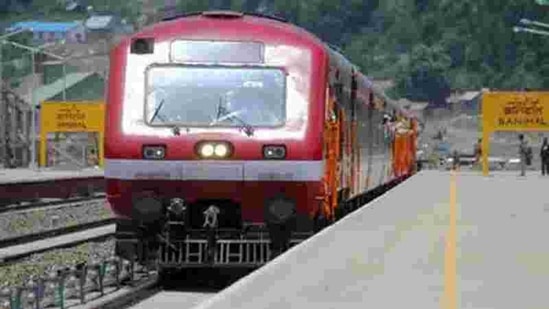 The train in Kashmir is yet to be connected to the rest of the country and runs in a standalone route from Banihal, the gateway to Kashmir in the south, to Baramulla in north Kashmir – a distance of 137 km.
Chief Area Manager, Northern Railways, Srinagar, Saqib Yousuf has written to the railway police expressing the transporter's intention for partial restoration of the service between Banihal and Baramulla section.
"In reference to the above mentioned subject, train services are to be partially restored in Banihal-Baramulla section from 22nd February 2021 onwards. Kindly inform the office of undersigned whether your office has any objection in restarting the passenger services between Banihal-Baramulla section," said the official communication on February 17.
Yousuf told Hindustan Times that they would be announcing their final decision on February 21. "We will finalize the plan by February 21 to decide whether the train will run on February 22," he said.
The rail services were suspended on March 19, 2020 owing to the novel coronavirus pandemic.
In winter during normal days, there used to be 24 services of which eight were end to end while rest used to originate/terminate at central Kashmir's Budgam railway station.
People familiar with the developments said that the authorities are considering starting one to and fro service between Banihal and Baramulla to begin with.
"Only one train service between Banihal and Baramulla and vice versa has been approved for the time being," they said.
The shutdown of train service has resulted in a lot of losses to the railway authorities. In Kashmir rail used to have 100 percent occupancy. In summers, every day, 35,000 to 40,000 commuters use train services while in winters around 25,000 people travel daily by train.
The train service in the valley has often been marred by political developments. In August 2019, the service was suspended and subsequently restored after 100 days following the Centre's decision to abrogate Article 370 of the Constitution and to bifurcate the erstwhile state into two Union territories.
During 2010 agitation, the services came to a halt after the coaches were damaged. In 2016, after the killing of Hizbul commander Burhan Wani, the services remained suspended for over six months. It also remained shut for over two months during 2014 floods.