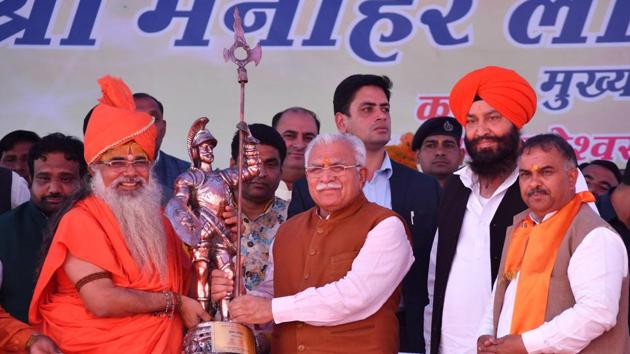 Agriculture councils the way forward to help raise farmers' income, says Haryana CM
Experts, progressive farmers to get platform to suggest ways to boost agri sector, cut input costs; each district to get panel.
UPDATED ON FEB 27, 2018 01:35 PM IST
Stating that better and improved coordination between agriculture experts, farmers and the government was the way forward in increasing income of farmers and cut costs, Haryana chief minister Manohar Lal Khattar launched the Karnal District Agriculture Council on Monday.
"We are taking steps to increase farmers' income and agriculture councils will help in achieving the target, but farmers need to adopt latest techniques to increase their income," the CM said, while attending a seminar on Haryana Progressive Farmers Convention organized by the Indian Council of Food and Agriculture.
He added that a State Agriculture Council will also be formed after the district councils are formed. Under the concept, agriculture experts and progressive farmers will work together to increase the income of farmers and cut the input cost. For the Karnal Agriculture Council, Dr Gurbachan Singh, former chairman of Agriculture Recruitment Board of the Union Government, has been made its chairman. The state government will now work to find and include progressive farmers in the council.
The CM also put the blame for the agriculture crisis in the state on previous governments, claiming that their neglect of the sector had led farmers to overuse pesticides and Punjab and Haryana were thus battling with increased incidence of cancer.
Haryana agriculture minister OP Dhankar claimed that the state worked for welfare of farmers. He, however, skipped a question on the arrest of farmers in Yamunanagar saying, "Everybody has a right to protest, but any stir should not create problems for others."
CM lays stone of ROB in Karnal
Earlier in the day, the CM also laid the foundation stone of Railway Over Bridge to be constructed at a cost of Rs 11 Crore in Ram Nagar. The project is to be completed by the year-end. The chief minister also announced developmental projects of Rs 80 lakh for Gondar village of Karnal.
On a demand from residents that the village be named after Gautam Rishi, the CM said if the panchayat sent such a proposal, it would be considered.
In the evening the chief minister also announced Rs 10 crore for panchayats and Rs 2 crore for the municipal council. He also announced that the Indri block had been selected for development of a five-pond scheme of the Centre.
Later, during a programme in Nilokheri, the CM announced developmental projects of Rs 93 crore for Nilokheri assembly segment including a 50-bed multistorey hospital and sports complex.
Close