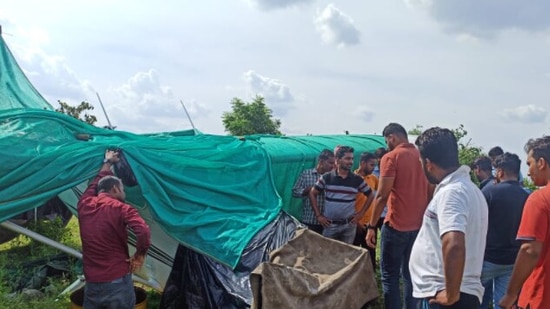 Aircraft skids off runway in Madhya Pradesh's Sagar; trainee pilot unhurt
The Cessna 172 aircraft, which skidded off the runway, belonged to Chimes Aviation Academy. Taking cognisance of the accident, Union civil aviation minister Jyotiraditya Scindia tweeted to inform that a probe team had been rushed to the crash site.
UPDATED ON JUL 17, 2021 05:36 PM IST
A trainee pilot escaped unhurt after a Cessna 172 aircraft skidded off the runway while taking off from the Dhana airstrip in Madhya Pradesh's Sagar district on Saturday. The aircraft, which was to go on a solo flight, belonged to Chimes Aviation Academy, a private aviation institute.
The accident took place around 3pm, police said. Rahul Sharma, the local administrator of Chimes Aviation, said that the 22-year-old female trainee pilot was safe. According to eye witnesses, the aircraft skidded off the runway and ended up in a patch of land full of shrubs.
"Just got the news of a crash of a Cessna aircraft (solo flight) that belonged to the Chimes Aviation Academy, Sagar, Madhya Pradesh. Fortunately, the trainee is safe. We are rushing an investigation team to the site," Union minister for civil aviation Jyotiraditya Scindia tweeted.
This is not the first time when an aircraft belonging to Chimes Aviation has been involved in an accident at the Dhana airstrip. In January 2020, a flight instructor and a trainee pilot lost their lives when a training aircraft they were flying crashed in an agricultural field near the airstrip. Two months later, the Madhya Pradesh government banned the institute from using the airstrip after the academy was found allegedly flouting various norms. The ban, however, was lifted later.
On Friday, a flight instructor lost his life while a trainee pilot was injured when their training aircraft crashed in Maharashtra's Jalgaon. The aircraft reportedly belonged to NMIMS Academy of Aviation.
(With PTI inputs)
Close