Akhil Gogoi: The controversial activist branded as Maoist and an Ulfa sympathiser
The 41-year-old Gogoi, who had been rebellious since his college days, became popular with 'anti-establishment class' since winning the first RTI national awards in 2009. He even accused former Assam chief minister Tarun Gogoi of buying property in the US.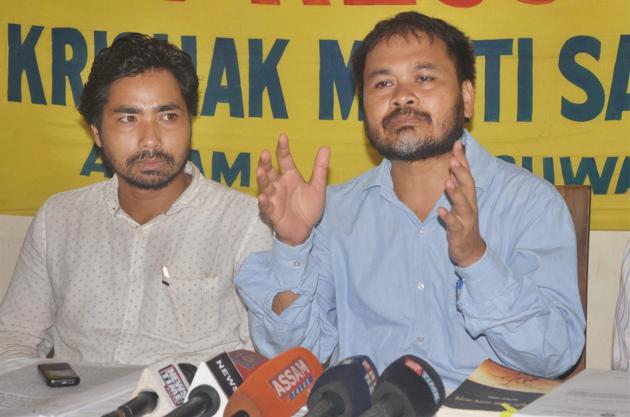 Updated on Sep 14, 2017 01:17 PM IST
Assam activist Akhil Gogoi, arrested on charges of sedition for allegedly instigating people to take up arms against outsiders, has often had a brush with the law since he started off as an anti-corruption crusader via RTI more than a decade ago.
He graduated to being a pro-farmer and anti-dam activist, virtually becoming a one-man opposition for Tarun Gogoi's Congress and now Sarbananda Sonowal's BJP-led government. In the process, he has been branded a Maoist, sympathiser of secessionist outfits such as United Liberation Front of Asom (Ulfa), a friend of forest encroachers, abettor of suicides and extortionist.
The 41-year-old Gogoi, from Lukhurakhon village in central Assam's Jorhat district, has had a rebellious streak from his days in college where he pursued English literature. In the late 1990s, he joined the United Revolutionary Movement Council of Assam, an organisation of CPI-ML led by Maoist leader Santosh Rana.
Later, he parted ways with Rana to edit an independent Marxist journal published in Assamese.
Peasant movement
Gogoi formed the Krishak Mukti Sangram Samiti (KMSS) in 1995, exactly a decade before the Right to Information Act was introduced. He wielded RTI to focus on public distribution system thefts, non-implementation of National Rural Employment Guarantee Act, land rights, corruption, and big dams in the highly seismic northeast.
KMSS aligned with Gandhian activist Anna Hazare but broke with his India Against Corruption (IAC) campaign in 2011 primarily seeking introduction of the Jan Lokpal Bill. Gogoi later said he moved away from IAC because a faction led by Arvind Kejriwal decided to form a political party.
Gogoi had by then become a force to reckon with in Assam, his popularity among the "anti-establishment class" having increased since winning the first RTI national awards in 2009. He won the second Manjunath Shanmugam Integrity Award the year before.
Gogoi received the RTI award, an initiative of Public Cause Research Foundation with the Hindustan Times, in the citizen category. He was among the 19 finalists shortlisted from 1130 nominations received from across the country.
In 2009, Gogoi turned his attention to big dams, specifically NHPC's 2000 MW Lower Subansiri project on the Assam-Arunachal Pradesh border. His organisation prevented the shipment of turbines for the dam in 2011. The barges carrying the turbine parts had to return via Bangladesh after being stranded on the Brahmaputra for several days.
Alleged Maoist link, Ulfa backing
In March 2010, independent MLA Buban Pegu displayed in the assembly a "secret" Assam police report that said he, Gogoi and development activist Ravindra Nath had links with Maoists. The report, signed by the inspector general of police (law and order) on August 7, 2009, also said Gogoi had several members of KMSS trained under Maoists in Jharkhand in 2007.
"Yes, I am a Marxist and I believe in social transformation. But I am not a Maoist. The (Congress) government has a plan to stop me from campaigning for the rights of farmers and from exposing corruption. They have even plotted to eliminate me," Gogoi had said reacting to that report.
As former chief minister Tarun Gogoi kept reminding the activist of his "Maoist links", the latter dropped a bombshell in January 2011. He accused the former chief minister and his family of buying property in the US worth Rs 18 crore.
Akhil Gogoi also demanded a CBI probe against Tarun Gogoi for an alleged hill council scam involving Rs 5000-crore besides digging up criminal cases against Himanta Biswa Sarma, then an influential minister in the Congress government and now arguably the most powerful minister in the Bharatiya Janata Party-led coalition.
The Congress, which ruled for 15 years from 2001 to 2016, had taken a note too of Ulfa's support for Akhil Gogoi.
Officials said fugitive Ulfa commander Paresh Baruah has been backing Akhil Gogoi since he began his activism in 2006 by batting for squatters in Doyang-Tengani forest lands in central Assam's Golaghat district.
The Ulfa chief used the example of a KMSS agitation on June 22, 2011, to justify the armed struggle against the "Indian occupational forces". That day, police fired on some 12,000 people KMSS had gathered in Guwahati to protest "arbitrary and inhuman" eviction from alleged encroachment on forests and wetlands.
Three people, including a nine-year-old child, died in the firing and scores of protesters, policemen and bystanders were injured. Akhil Gogoi had then accused the Congress of hiring goons to discredit a demonstration that was "inherently peaceful".
Abetting immolation, rift within
The Congress government was allegedly soft on Akhil Gogoi during the 2011 firing but its patience ran out after a similar protest three years later. On March 3, 2014, the police arrested him for allegedly abetting and entering into a criminal conspiracy leading to self-immolation by Pranab Boro, a member of KMSS.
Boro had set himself on fire in front of the state secretariat during an agitation to demand rights for living on government land, forests, and wetlands. The man's death prompted the arrest of Akhil Gogoi under Section 308 for abetting in the act leading to the death and under 120(B) of entering into a criminal conspiracy.
The confrontation between the KMSS leader and the Congress government increased with Tarun Gogoi virtually accusing Akhil Gogoi of blackmailing and extorting from traders from corporate houses. The activist dared the ex-chief minister to prove his charges.
By that time, trouble started brewing within the KMSS. Kamal Medhi, the organisation's convenor, and three other leaders parted ways with Akhil Gogoi, saying the aims and objectives of KMSS had changed drastically.
"Akhil Gogoi conspires against anyone who criticises him, and members of KMSS have often provided wrong information to the people," Medhi said after quitting the organisation in April 2016.
In September that year, Akhil Gogoi courted controversy for allegedly inciting violence during a drive to evict encroachers from Kaziranga National Park following a high court directive. He was arrested a few days later.
In 2014, Akhil Gogoi had acquired more than 50 acres of land in Kohora range of the rhino habitat to establish the Kaziranga Orchid and Biodiversity Park. This was a year after he opened retain outlets for peasants as "an alternative to FDI in retail as well as mafia-run syndicates".
Communal overtone
At the root of the charge of sedition against Akhil Gogoi is an incident in central Assam's Nagaon town on August 24. A group of traders assaulted ex-Ulfa members, who claimed to have sought donations for flood victims.
Intellectuals including Hiren Gogoi, a retired professor and one-time associate of Akhil Gogoi, social activists, and a section of the media interpreted the incident as a case of BJP-backed Bengali domination over Assamese locals. The incident was related to the BJP's bid to tweak the citizenship act to let persecuted religious minorities from Bangladesh, Pakistan, and Afghanistan to become Indians after a few years of living as refugees.
Though the move involves all non-Muslim groups speaking diverse languages, Assam is particularly worried that the state would be used as a dumping ground for Bengali Hindus from Bangladesh.
"A section in Assam tried to instigate communal disturbance by cleverly avoiding the information that the group of businessmen (in Nagaon), who allegedly insulted former militants, represented both Bengali and Assamese communities. The irresponsible campaigners even made early resolutions that Hindu Bengalis would never mingle with Assamese locals in the State," a statement by the Patriotic People's Front of Assam said.
A forum of Ulfa victims too resented the "communal conspiracy", saying that a plain case of extortion in Nagaon was being given a dangerous dimension.
Akhil Gogoi, however, used the Nagaon incident as a peg for his campaign against the BJP's move to settle migrants and outsiders in Assam. He teamed up with some pro-talks Ulfa leaders to campaign for the protection of indigenous communities.
In one such campaign at Moran in eastern Assam on Tuesday, his speech was deemed incendiary. The police arrested him under section 121 of the Indian Penal Code for "waging, or attempting to wage war, or abetting waging of war, against the Government of India".
The police said Akhil Gogoi and pro-talks Ulfa leader Jiten Dutta had "instigated the common people to wage war against the nation and delivered speeches against communal harmony. They also announced that they are ready to use "hangdang" (machete) and AK-47 rifle in their movement against the government".
Close Story