Akhilesh Yadav quits as Lok Sabha MP; retains UP assembly seat
Mar 22, 2022 01:57 PM IST
Akhilesh Yadav's Samajwadi Party won 111 seats in Uttar Pradesh.
Akhilesh Yadav has quit as Lok Sabha MP after he won the assembly constituency of Karhal in the Uttar Pradesh state elections. This was the first assembly election the 48-year-old former UP chief minister had fought. He was a Lok Sabha MP from Azamgarh.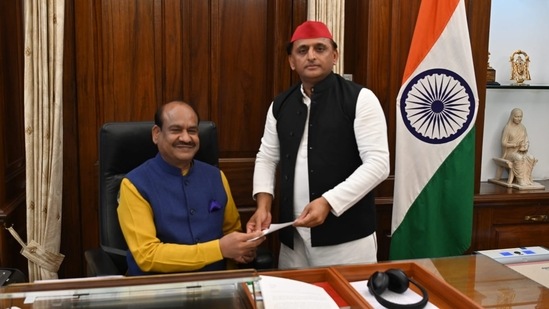 With this, Akhilesh Yadav is expected to fill in the role of the leader of opposition in the UP state assembly. In visuals, he was seen handing over his resignation to Lok Sabha speaker Om Prakash Birla on Tuesday afternoon.
The Samajwadi Party chief has been the BJP's key challenger in Uttar Pradesh. His party won 111 of 403 assembly seats while the BJP, along with its allies, managed to win 273 seats. However, a day after the result for the crucial state was out, he said that his party's performance had shown that the BJP's seats can be reduced. In 2017, the BJP and its allies had won 325 seats.
Yogi Adityanath is set to take oath as Uttar Pradesh's chief minister on Friday at a grand ceremony for a second straight term. This is the first time in 37 years that a chief minister in the state has returned for a consecutive term.
Yadav has been a relentless critic of the BJP and Yogi Adityanath over the issue of jobs in the state among other matters. He had also slammed the ruling party over the handling of coronavirus, and during the election, he accused the BJP of meddling with the electronic voting machines.
Prime Minister Narendra Modi had led the BJP's counterattacks against the SP over what the BJP described as lawlessness and "mafia raj" in the state during Akhilesh Yadav's tenure.
In another development, Samajwadi Party leader Azam Khan has also resigned from Lok Sabha, news agency ANI reported. He won the UP assembly polls from Rampur. Khan is facing multiple police cases, which the opposition as described as political revenge.
(With inputs from ANI)