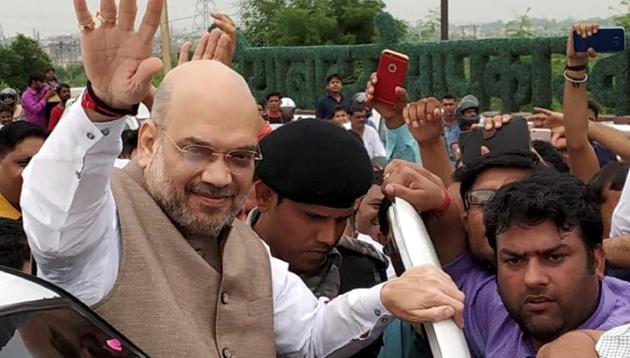 Amit Shah pitches for one nation, one election in letter to law commission
In the five-year term of a Lok Sabha, there are five to seven assembly elections every year, apart from various local bodies, Amit Shah said. This not only leads to pressure on public funds but also diverts attention of officials from ensuring people's welfare to only managing elections, he added.
New Delhi | By HT Correspondent
UPDATED ON AUG 13, 2018 10:26 PM IST
Simultaneous elections to the Lok Sabha and state assemblies will put a check on poll-related expenditure and ensure that the country is not in an "election mode" through the year, Bharatiya Janata Party (BJP) president Amit Shah said in a letter written to the Law Commission of India.
A delegation of BJP leaders met Law Commission chairman BS Chauhan and handed over Shah's letter. The commission, which is examining the feasibility of holding simultaneous polls, had sought the views of political parties before finalising its report. The Congress met the Commission's top officials recently and opposed the concept of simultaneous polls.
Shah said criticism of the concept of simultaneous elections was politically motivated. Simultaneous polls will let elected governments work, keeping governance and development as their focus areas, without having to think about elections, Shah said.
A senior BJP leader it is theoretically possible to do this even as early as next year for elections to the Lok Sabha and around 10 states.
Madhya Pradesh, Rajasthan, Chhattisgarh and Mizoram will vote in December to elect new governments. "If these states are placed under President's rule for a couple of months, assembly elections in these states can be timed with the Lok Sabha election," this person added, requesting anonymity, although he clarified that he was just explaining how it could be done and this did not necessarily reflect any considered government plan.
The Lok Sabha election will take place in April-May next year, along with assembly elections in Andhra Pradesh, Odisha, Telangana and Arunchal Pradesh.
Polls are due in Haryana, Maharashtra and Jharkhand in the later half of 2019. All these states are ruled by the BJP and advancing elections in these states to hold them along with the national polls could also be possible, the BJP leader said.
Bihar chief minister Nitish Kumar has supported the idea of simultaneous elections, triggering speculation that he is willing to join the 'one nation, one election' bandwagon.
Close