Andhra HC asks CBI to probe theft of files from Nellore court
Published on Nov 25, 2022 12:36 AM IST
The miscreants took away a bag containing documents, a few stamps and a few electronic items. Based on the complaint by the court staff, the Nellore police registered a case and took up the investigation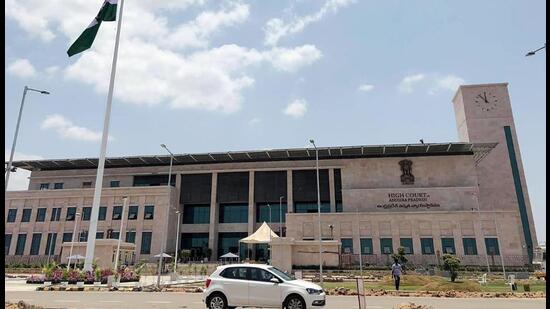 The Andhra Pradesh high court on Thursday handed over the probe in connection with the theft of important files, involving a state minister from a local court in Nellore town in April this year, to the Central Bureau of Investigation (CBI). A high court bench headed by chief justice Prashant Kumar Mishra, which took up the case suo motu in July, directed the CBI to take up the probe.
On April 14 this year, unidentified miscreants had stolen some key documents pertaining to a case involving state agriculture minister Kakani Goverdhan Reddy from the fourth additional judicial magistrate court in Nellore town.
The documents were related to the case of forgery and cheating against the minister. In December 2017, Goverdhan Reddy, who was then an MLA of YSR Congress Party, had alleged that Telugu Desam Party leader and the then minister Somireddy Chandramohan Reddy had amassed huge wealth and released some documents to prove his point.
However, Chandramohan Reddy had lodged a complaint with the police in the same month, stating that the documents released by Goverdhan Reddy were forged. He also simultaneously filed a defamation case against him. Even as the case was under investigation, there was a change in the government in the state in May 2019. On April 11 this year, Goverdhan Reddy was inducted into the cabinet and within three days, the material related to the forgery case against him was stolen from the court.
The miscreants took away a bag containing documents, a few stamps and a few electronic items. Based on the complaint by the court staff, the Nellore police registered a case and took up the investigation. Later in the evening, the police recovered the stolen bag in a drain outside the court but several documents were missing. Police had also arrested two people in connection with the case.
In July, the high court took up the case suo motu and asked for a report from the Nellore district principal judge. In his report, the judge said the police investigation into the theft case was not done properly and even stated that facts would come out if an inquiry was conducted by an independent agency.
During the hearing, state advocate general Subrahmanyam Sriram informed the court that the government had no objection for a CBI probe. Goverdhan Reddy's counsel too said he had no objection for a CBI probe.
After hearing the arguments, the high court bench reserved its judgement and pronounced it on Thursday, handing over the investigation to the CBI.
Personalise your news feed. Follow trending topics