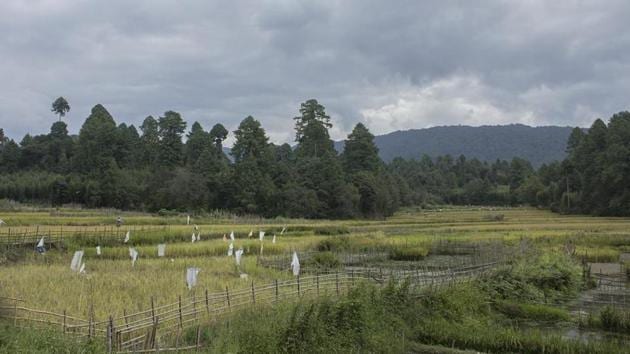 Arunachal Pradesh confers land ownership rights for the first time to indigenous people
Land in Arunachal Pradesh was owned by communities and not individuals.
UPDATED ON MAR 14, 2018 04:51 PM IST
Indigenous tribal population of Arunachal Pradesh will be able to have ownership rights for the first time over their land, thanks to a bill passed this week in the state assembly in a move to spur investment.
The move is expected to benefit nearly two-third of the state's population. According to 2011 census, the border state's population is 13.84 lakh.
Land in Arunachal Pradesh was held under customary laws and no document conferring the title of the land was given to the people.
"Apart from government land, most of the land across Arunachal Pradesh was owned by communities and not individuals. Though people had Land Possession Certificates (LPCs), for the plots which belonged to them, it didn't give them ownership rights," said Jumyir Basar, associate professor, Arunachal Institute of Tribal Studies at the Rajiv Gandhi University, Itanagar.
In absence of ownership document the land could not be mortgaged for loans by banks and other financial institutions.
Further, it was not possible for farmers to give their land on long term lease besides facing hurdles during payment of land compensations which made them land owning poor as they couldn't unleash the true potential of the land they owned.
The Arunachal Pradesh Land Settlement and Records Amendment Bill, 2018, which confers ownership rights to indigenous tribal people including communities and clans possessing LPCs, was passed by a voice vote on Monday.
The bill recognises ownership right of the citizens, particularly indigenous people of the state and provides them right to give their land on long-term lease up to 33 years, which is extendable to another 33 years making it to 66 years in total for big and small ventures.
"With this legislation, huge investments from outside is expected, which will augment the economy of the state," said a state government release.
People would now be able to mortgage land for obtaining loans from banks as the formal channels of credit has been opened.
The bill is expected to contain rampant unregulated money lending system presently prevalent in the state, which rendered people vulnerable at the hands of money lenders.
"Ownership of land would allow people use their land as collateral for loans and it is expected to change their economic status. But it is too early to say whether the bill would impact their lives positively or negatively," said Basar.
Close