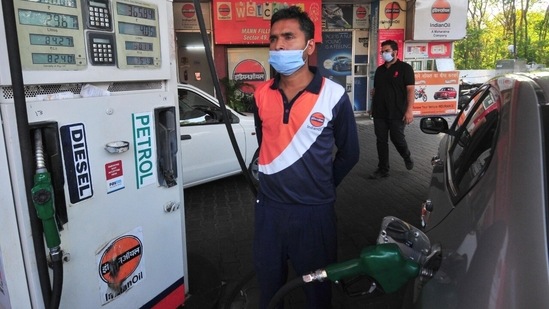 As petrol crosses
₹

100/ltr in Mumbai, here are fuel prices in other cities

Petrol prices were at the highest in Rajasthan's Sri Ganganagar district, where it was sold at

₹

104.94 per litre and diesel at

₹

97.79 a litre.

PUBLISHED ON MAY 29, 2021 02:18 PM IST
Petrol prices in India reached a new all-time high in India after fuel prices were increased for the 15th time this month. According to a notification from the state-owned fuel retailers, petrol price was hiked by 26 paise a litre and diesel price increased by 28 paise a litre. The price of petrol crossed ₹100 per litre in Mumbai on Saturday and already breached that mark in several districts across states like Madhya Pradesh, Maharashtra and Rajasthan. Diesel price was also increased in Mumbai and is currently being sold at ₹92.17 per litre.
Local taxes levied by state governments contribute to the varying fuel prices between states. Rajasthan charges the highest Value Added Tax (VAT) on petrol among other states in India, followed by Madhya Pradesh and Rajasthan.
As petrol prices reached ₹100 per litre in India's financial capital, here is a look at fuel prices in other cities of the country:
Petrol prices were at the highest in Rajasthan's Sri Ganganagar district, where it was sold at ₹104.94 per litre and diesel at ₹97.79 a litre. In Jaipur, the prices were ₹100.44 per litre for petrol and ₹93.66 per litre for diesel. It reached new heights in Madhya Pradesh too, as it was sold at ₹102.04 per litre and diesel cost ₹93.37 per litre in Bhopal.
Among other metro cities, in the national capital of Delhi, petrol reached ₹93.94 per litre and diesel reached ₹84.89 per litre. In neighbouring Uttar Pradesh's Lucknow, petrol cost ₹91.41 per litre and diesel was priced at ₹85.28 per litre. In Tamil Nadu's capital city of Chennai petrol cost ₹95.51 per litre and Diesel cost ₹89.65 per litre on Saturday.
In Karnataka's Bengaluru, petrol was being sold at ₹97.07 per litre and diesel was sold at ₹89.99 per litre. The prices in Telangana's Hyderabad also soared as petrol was priced at ₹97.63 per litre and diesel at ₹92.54 per litre. In Kolkata, petrol and diesel were sold at ₹93.97 per litre and ₹87.74 per litre respectively. Meanwhile, in Chandigarh, petrol was sold at ₹90.36 per litre and diesel cost ₹84.55 per litre.
(Prices based on Indian Oil website)
Topics
Close