Assam Congress leaders prevented from visiting Mizoram border, lash out at CM
Congress MP Gaurav Gogoi said the violent clash between the people and police forces of Assam and Mizoram was due to the failure of the Central government and its policies.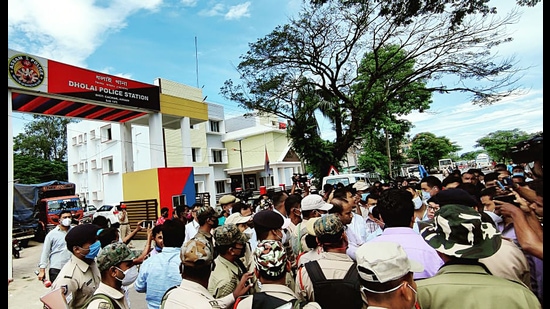 Updated on Jul 28, 2021 08:43 PM IST
By Biswa Kalyan Purkayastha
A group of Assam Congress leaders including Assam Pradesh Congress Committee (APCC) president Bhupen Bora, Congress Legislative Party (CLP) leader Debabrata Saikia, parliamentarians Gaurav Gogoi and Pradyut Bordoloi, deputy CLP Rakibul Hussain, president of All India Mahila Congress Committee Sushmita Dev, and APCC working president and lawmaker Kamalakhya Dey Purkayastha were stopped few kilometres from the Mizoram border on Wednesday by Assam Police, citing the need to not let the situation turn volatile.
The Congress leaders protested the move and attacked Assam chief minister Himanta Biswa Sharma.
"Himanta Biswa Sarma was showing a strong attitude on Monday but we were shocked to hear what he said on Tuesday while visiting Silchar. We thought he is a strong personality but he turned out to be a weak man crawling before the Centre. [We] did not expect him to say that he will hand over Barak Valley or Nalbari, both in Assam, to anyone if the Centre instructs," Sushmita Dev said.
Gaurav Gogoi said the violent clash between people and police forces of Assam and Mizoram was due to the failure of the Central government and its policies.
"We wonder how the Central government's intelligence could not figure out that such a big attack was being planned. This is not a new issue but the discussion has been going on since long. At this moment, BJP has governments both at the Centre and in the state. Mizoram government is also a friend of the BJP. They could not initiate proper dialogue and provoked the common people to be violent. It is a failure of the Central government led by the BJP," Gogoi said addressing a press conference at Indira Bhawan in Silchar.
The Congress delegation appealed to Assam and Mizoram residents to maintain peace.
BJP MP from Silchar Rajdeep Roy dismissed Congress criticism and said the saffron party did not want "suggestion or criticism from a failed leadership like the Congress party". He added that the BJP was working "strategically" for overall development of entire northeast. "Congress has lost relevance in all Northeastern states and they are now trying to make themselves visible by accusing the BJP on false grounds," he said.
Roy said, "Congress ruled these states for almost 95 percent of the time since Independence but didn't solve any issues. Present government in Assam is only 3-months old, how can one expect it to solve such long-pending issue all of a sudden," he asked.
He also criticised the Congress delegation alleging they were acting irresponsibly. "After the firing incident, Assam-Mizoram border has become a sensitive area. Even chief minister Himanta Biswa Sharma did not go there immediately. But the Congress team led by Sushmita Dev tried to go there today and now they are making baseless allegations. This shows that she doesn't have any administrative responsibility."
Meanwhile, shutdown called by various organisations in Assam's Cachar district on Wednesday to protest the violence that led to deaths of six Assam policemen and one civilian received support from the residents. The protesters burnt an effigy of Mizoram chief minister ZoramThanga and called for a complete boycott of Mizoram.
A group of students staged a protest in front of Mizoram Circuit House in Silchar. They were seen carrying banners condemning the Mizoram government. Throughout the demonstration, slogans like Mizo Police go back, Mizo aggressors go back, were heard.
Protestors also removed a portion of the railway tracks in Hailakandi district, which connects Mizoram's only railway station Bhairavi to other parts of the country. It was later restored by the railway department with the help of police.
A 25-year-old driver Abdul Ali Laskar from Khulicherra area under Dholai constituency of Assam, who sustained bullet injury on Monday, said, "We are victims of violence from Mizoram's side for years. We went to support the police but did not expect to get bullets on our bodies. A local chemist operated on my wound and took the bullet out from my forehead. We don't want this sort of violence anymore."
Close Story