Assam: Speeding train kills 3 elephants, toll rises to 8 in a month
Three wild elephants including a calf were killed after they were hit by a speeding train engine in Nagaon district of central Assam early Saturday morning.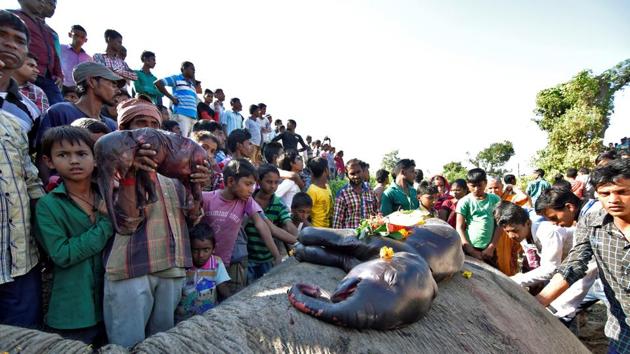 Updated on Dec 17, 2016 03:22 PM IST
Three wild elephants, including a calf, were killed after they were hit by a speeding train engine in Nagaon district of central Assam early on Saturday morning.
The incident took place when the engine hit a herd of elephants crossing the railway tracks around 4:50am between Kampur and Jamunamukh stations located nearly 125km east of Guwahati.
With this, the number of wild elephant deaths after being hit by speeding trains in the state increased to eight this month.
Three elephants, including two pregnant females (who later delivered two stillborn calves), were killed at Hojai in Nagaon district by the Kanyakumari-Dibrugarh Vivek Express on December 5.
A day later, another a speeding train killed a nine-year-old male and injured an adult female at Banglapara in Goalpara district. The injured pachyderm succumbed to injuries few days later.
Both incidents had prompted the state forest department to hold emergency meetings with Northeast Frontier Railway (NFR) officials and it was decided to limit speed of trains to 15 km/hr at elephant corridors.
"The fresh incident is very unfortunate. We are taking the issue seriously and efforts are underway to increase coordination between forest and railway officials," forest minister Pramila Rani Brahma told Hindustan Times.
She maintained Saturday's incident was due to carelessness of the engine driver and instructions have been issued to the forest department to register an FIR against him.
Orders were also issued to start a monitoring cell at the headquarters of the forest department to keep track of movement of wild elephant herds by remaining in constant touch with forest staff on the ground.
"The spot of accident is not within the vulnerable area as marked by forest department. It is about 13km away from the area where caution had been advised by the forest department," Pranav Jyoti Sharma, CPRO-NFR, stated.
Reduced forest cover and inadequate food source are responsible for the increased incidents of man-animal conflict being reported from across Assam, which has nearly 6,000 wild elephants.
Last month, a female elephant and her young calf had fallen into a deep pit at Patanjali's mega food park in Tezpur district. While the calf was rescued, the female, which had sustained injuries during the fall, died.
There have also been incidents of wild elephants getting electrocuted and poisoned by farmers desperate to protect their crops from the marauding herds of pachyderms.
Close Story
Personalise your news feed. Follow trending topics