BBC documentary screened at Jadavpur University; 'Kashmir Files' in Hyderabad
Jan 27, 2023 10:46 AM IST
The screening of BBC documentary 'India: The Modi Question' in Jadavpur University was reportedly held without any interference from the police or the administration.
The controversial BBC documentary on Prime Minister Narendra Modi and the 2002 Gujarat riots was screened by the Students Federation of India (SFI) at Kolkata's Jadavpur University on Thursday evening. The screening of 'India: The Modi Question' was reportedly held without any interference from the police or the administration.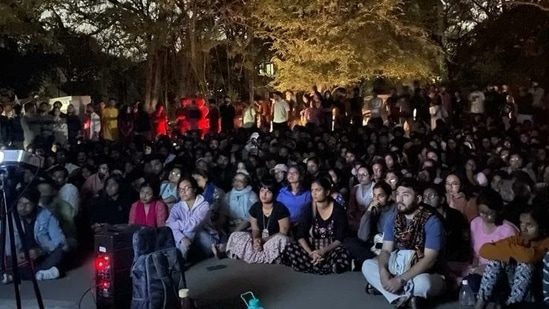 The event was held comes even as various Left organisations have either planned or screened it after the Centre had last week directed the blocking of multiple YouTube videos and Twitter posts sharing links to the documentary.
All India Students' Association (AISA), another Left body, also decided to screen the documentary on the campus of Jadavpur University on Friday, said Sandip Nayak, a senior member of the organisation, news agency PTI earlier reported.
The SFI, a Communist Party of India (Marxist)'s student wing, has also sought permission for screening the documentary at Presidency University in the West Bengal capital on Friday.
Members of Presidency University's visual arts society will also screen the documentary on February 1, said Moitreyo Sarkar, one of the organisers.
The documentary is critical of then Gujarat chief minister Modi's role during the riots. The riots claimed the lives of over 1,000 people after a train carrying Hindu pilgrims was burned allegedly by a Muslim mob in Godhra.
In Delhi, 13 students of Jamia Millia Islamia, who were detained for allegedly creating a ruckus outside the campus hours before the screening of the BBC documentary on Wednesday, were released on Thursday, police said. However, the documentary was not screened.
Jamia Millia Islamia suspended classes on Friday at the request of students and faculty members, the varsity said in a statement. In an office memo, the administration said all offices of the university, including the departments, centres and schools, will function as usual.
This came a day after students of Jawaharlal Nehru University (JNU) in New Delhi alleged they were attacked with stones while watching the documentary on their mobile phones as its screening was not allowed by the university administration.
Meanwhile, in Hyderabad, the SFI on Thursday organised the screening of the documentary at the University of Hyderabad even as the RSS's student wing ABVP showed another controversial film 'The Kashmir Files', on the campus, PTI reported. The Fraternity Movement on UoH campus, a students' group, had earlier organised the screening of the BBC documentary on January 21 at the varsity campus without prior notice or permission, prompting the university authorities to seek a report on the incident for taking necessary action.
(With inputs from agencies)