'Benami property' law to be operationalised soon: PM Modi in Mann ki Baat
In his last "Mann ki Baat" address this year, PM Modi defended the frequent changes in the rules of demonetisation, saying these have been done to reduce the people's problems and defeat such forces who are out to thwart his government's fight against black money and corruption.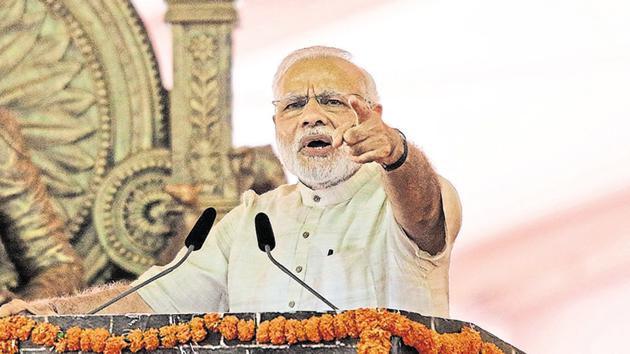 Updated on Dec 25, 2016 09:18 PM IST
Hindustan Times |
Saubhadra Chatterji and Mahua Venkatesh, New Delhi
The next step in the war against corruption would be a crackdown on benami property, Prime Minister Narendra Modi said Sunday, as he again thanked people for enduring the "pain" caused by scrapping of high-value currency.
Modi, who has come in for heavy criticism for scrapping Rs 500 and Rs 1,000 notes that has triggered a cash crunch, said if curbing corruption and ill-gotten wealth required "even tougher steps, those would be taken".
"You are possibly aware of a law about benami property in our country which came into being in 1988, but neither were its rules ever framed, nor was it notified. It just lay dormant," Modi said during the year's last edition of Mann ki Baat, his monthly radio programme.
"We have retrieved it and turned it into an incisive law against benami property. In the coming days, this law will also become operational," he said.
One of the biggest criticisms of demonetisation is that cash only accounts for 6% of the black money, the bulk of which is parked in real estate, bullion or is stashed abroad.
Read | Mann Ki Baat: PM Modi thanks people for enduring demonetisation 'pain'
The benami transactions (prohibition) amendment act, which came into effect from November 1, has a provision for seven years in jail and a hefty fine for offenders. Such properties can also be confiscated.
A property is benami if it is paid for by someone other than the owner and the source of income is not known. The property could be in the name of spouse or children.
To avoid paying taxes, many black-money holders prefer to buy property in the names of family, friends and even staff.
Modi's push against such properties will not only expand his "battle against black money" but also blunt Opposition's criticism, which has accused him of wrecking the country's economy.
Sources, however, said the law should be tightened for it to be effective.
Various options were being considered to deal with the benami-property holders and like the demonetisation drive, a "surprise move" could be announced, an official told HT.
Read | Mann Ki Baat: Modi bats for cashless transactions, harps on people's support
"We have the required information and we are equipped to deal with it... once the act is implemented, we will start taking action against those who hold such benami properties," a finance ministry official, who refused to be identified, told HT.
Defending frequent changes in rules after he announced demonetisation on November 8, Modi said the norms were changed to outsmart people who were exploring new ways to get round the guidelines.
The changes, at least 60 of them at last count, were signs that the government had blundered in remonetisation, the Opposition had said.
"When I have resolved to wage battle against them, they too come up with new tactics everyday to thwart our efforts. To counter them, we too have to devise appropriate new responses and antidotes," Modi said.
The PM, often accused of being pro-business and anti-poor, invoked Jesus Christ, saying demonetisation would benefit the poor. "Jesus said the poor do not need our favours but our acceptance with affection," he said on Christmas Day.
Read | Narendra Modi lauds Indian sportspersons for their brilliant display in 2016
Close Story