Mohan Bhagwat's Hindu population comment triggers row
Aug 22, 2016 01:33 AM IST
RSS chief Mohan Bhagwat was in the midst of a controversy on Sunday over his comment on Hindu population, with Congress and BSP criticising him for the remarks.
RSS chief Mohan Bhagwat told complaining teachers in Agra he was not a "messenger" of the BJP-led central government and goaded young Hindu couples to sire more children, the second comment triggering opposition flak on Sunday.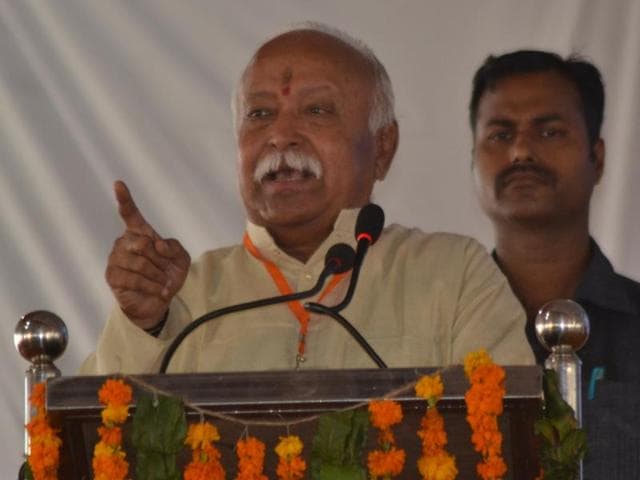 BSP chief Mayawati asked if Hindus began procreating more, would the BJP give jobs to the children.
Senior Uttar Pradesh minister Azam Khan of the Samajwadi Party, known for his controversial remarks, reacted sharply to Bhagwat's comment on the size of Hindu families.
"He should first ask shahenshah (reference to Prime Minister Narendra Modi) to sire children," he told a television channel.
Bhagwat's advice to teachers — that they should approach HRD minister Prakash Javadekar with their grievances, instead of him — was viewed as an attempt to delink the central government from the RSS, the BJP's ideological mentor. The RSS has been often accused of influencing government policies and decisions, especially in education.
"I know all of you are thinking that I am a messenger of the government but that is not true. I won't be able to help you with issues like pension, workplace harassment and others," he said.
He, however, promised he would try to present their case before the government.
Addressing around 2,000 young couples at another a function on Saturday, the 65-year-old Bhagwat urged them to work for family values and help inculcate patriotic sentiments in children.
"Which law says that the population of Hindus should not rise? What is stopping them when population of others is rising? The issue is not related to the system. It is because the social environment is like this," the RSS chief said.
His comments reminded of BJP parliamentarian Sakshi Maharaj's remarks in January 2015 that every Hindu woman must produce at least four children to "protect" the religion.
Bhagwat addressed young couples at Agra College as part of his four-day stay in the city to interact with groups representing various social strata and professions.
Commenting on the RSS chief's remarks, Congress leader Ghulam Nabi Azad said: "Woh dharm ki hi khaate hain. Woh aur kya baat karenge? (He banks on religion only, what else can be expected from him?)"
On Sunday, Bhagwat called for more opportunities, rights and say of woman in decision-making. He said many of the problems could be resolved if the "family network" was strengthened.
RSS volunteers at the event gave a presentation on the need to raise the Hindu fertility rate, warning anything below two children may lead to a race getting extinct.
They gave examples of France where the French fertility rate was 1.8, while that of Muslims was 8.1. "This would lead to a situation when only one in five residing in France would be original resident by the year 2027," a volunteer said.
(with PTI inputs)
.