Bhima-Koregaon violence: Police arrest 5 with alleged Maoist links for inciting riots
Jun 06, 2018 09:45 PM IST
Pune Police arrested a member of the Republican Panther group Sudhir Dhawale, prominent lawyer Surendra Gadling, activists Rona Wilson and Mahesh Raut and Nagpur University professor Soma Sen.
Police in a pre-dawn swoop on Wednesday arrested five activists including a retired professor and lawyer with alleged Maoist links for inciting people that led riots which rocked Bhima Koregaon, near Pune in January this year.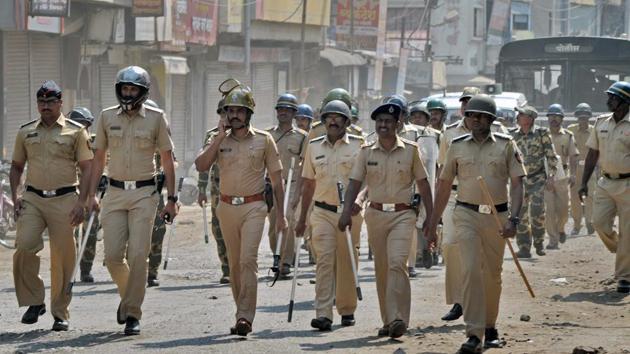 Ravindra Kadam, Pune's joint commissioner of police, said that they have arrested five people based on evidence "indicating links with banned Maoist outfits" which Dallit leaders and Leftist organizations condemned the arrests as 'selective action.'
Around five teams of the Pune police arrested Sudhir Dhawale, member of the Republican Panther; Surendra Gadling, prominent lawyer; Rona Jacob Wilson, activist; Mahesh Raut, former Prime Minister rural development fellow and Soma Sen, retired Nagpur University professor, from different locations.
While Dhawale was arrested from his house in Mumbai, Gadling, Raut and Sen were picked up from Nagpur and Wilson was arrested from his residence in New Delhi.
"Based on the evidence gathered during searches carried out at different locations, we have arrested five persons with specific references to Maoism," said Kadam.
The five persons were arrested in the case filed at the Vishrambaug police station for inciting people during the December 31, 2017 Elgar Parishad that led to violence at Bhima Koregaon on January 1, 2018.
A large number of Dalits had gathered to commemorate the 200th anniversary of a battle they won while fighting alongside the British against the Peshwas (upper caste rulers).
A 28-year-old man was killed in the clashes and mobs damaged and torched several vehicles and shops and ransacked houses of locals on New Year's day. An estimated ₹13 crore of property was damaged or destroyed in the riots.
The mobs had damaged and torched several vehicles and shops on New Year's day and the houses of local residents were also ransacked.
Dhawale was one of the organisers of the Elgar Parishad at Shaniwarwada in Pune when members of Kabir Kala Manch (KKM), a left-leaning organisation, delivered provocative speeches leading to violence at Bhima Koregaon, according to the FIR filed by the city police on January 8.
Sen, who used to teach English at Nagpur university and is reportedly a Maoist sympathiser, was arrested after her house in Nagpur's Bharat Nagar was searched in the morning. Police reportedly seized several documents, including hard disks, pen drives and books.
Kadam said that besides Indian Penal Code sections related to incitement of violence already invoked in the Vishrambaug FIR, the police have invoked the Unlawful Activities and Prevention Act (UAPA), against those arrested on Wednesday.
Pune police had carried out multi-city searches at the residences and offices of Dhawale, Wilson and Gadling on April 17. They claimed that they had found "incriminating documents" during those searches.
Earlier, the police had booked Dalit leader and independent Gujarat MLA Jignesh Mewani, Umar Khalid, Jawaharlal Nehru University's student leader; Soni Sori, Chhattisgarh activist and Vinay Ratan Singh, Bhim Army president, besides members of Kabir Kala Manch (KKM) in a separate FIR for inciting people at Elgar Parishad.
Right-wing leader Milind Ekbote was also arrested in connection with the clashes while Maharashtra chief minister Devendra Fadnavis gave a clean chit to another right-wing leader Sambhaji Bhide.
Harshali Potdar, another organiser of the Elgar Parishad and a Republican Panther member, alleged a conspiracy against Dalit activists.
"The police came to Dhawale's residence early in the morning and arrested him without any explanation. On one hand, the police are giving a clean chit to people like Bhide while on the other, they are arresting Dalit activists," Potdar said.
Members of KKM also accused the police of being selective in their action.
"The police are deliberately arresting people linked to Dalit movements, so that others will not go and depose before the judicial commission formed by the government to probe the Bhima Koregaon riots," said Jyoti Jagtap, member of KKM.