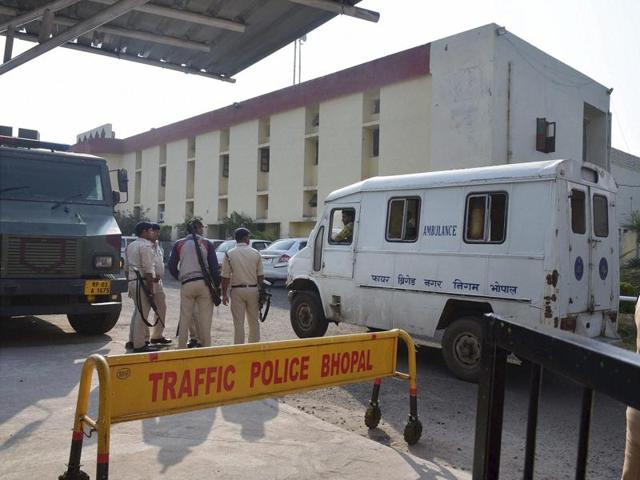 Bhopal jailbreak: Madhya Pradesh govt suspends DIG, Congress questions delay
The Madhya Pradesh government suspended deputy inspector general of prisons in the wake of the daring jailbreak by eight SIMI undertrials from the ISO certified jail in Bhopal.
UPDATED ON NOV 09, 2016 08:36 AM IST
The state government suspended deputy inspector general of prisons MR Patel on Tuesday, eight days after four staff of the Bhopal Central Jail were suspended and additional director general of prisons Sushovan Banerjee removed and attached to the state police headquarters.
Director general of prisons Sanjay Choudhary confirmed that the government order has been issued to the jail directorate on Tuesday.
The order comes in the wake of the daring jailbreak by eight SIMI under-trials from the ISO certified jail in the state capital.
According to sources, the suspension order of the DIG (prisons) was reportedly announced along with the suspension order of four staff members of the jail on October 31.
Patel, the son-in-law of BJP MLA from Jobat ( Alirajpur) Madhav Singh Dabar, was the superintendent of the jail for over three years, before Akhilesh Tomar was appointed to the post in 2015. After RS Vijayvargiya retired as DIG (Prisons) in March 2016, Patel was the supervising DIG of Bhopal Central Jail and other prisons of the Bhopal region.
The Congress on Tuesday questioned the delay over the issuing of Patel's suspension order. Former state Congress chief Kantilal Bhuria attacked the government, alleging that the delay has made it clear that the Shivraj Singh Chouhan government cares more about kin of its leaders and less about jail security.
State Congress spokesperson KK Mishra demanded that the state reveal details of the assets owned by Patel.
"Just a few hours after the early morning jail break and subsequent encounter killing of suspected SIMI activists, the ADG (Jail) was removed from his post and attached to police headquarters, while some other staff, including DIG (Jail) of Bhopal Central Jail was suspended. But the same government took eight days to issue the suspension order of DIG (Jail) MR Patel. The Congress wants to know why the government took so long to suspend Patel, who is the son-in-law of a BJP MLA," Mishra said.
He added that the delay has put under cloud the "much-hyped" impartial probe ordered into the episode. He also said the Congress suspects that the delay in completing the formalities pertaining to a NIA probe announced earlier by the CM into the jailbreak and the recently announced judicial probe into the episode is aimed at tampering with available evidence.
Close