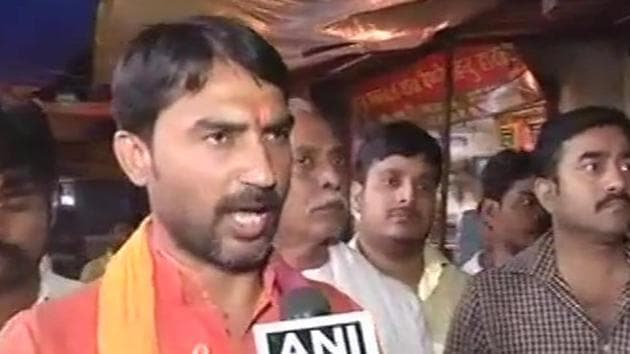 Bihar communal violence: Union minister Aswini Kumar Choubey's son Arijit arrested
Choubey has described the FIR as 'a piece of garbage' that was registered by 'corrupt police officers in Bhagalpur'.
UPDATED ON APR 01, 2018 09:59 PM IST
Union minister Aswini Kumar Choubey's son Arijit Shashwat was arrested from Patna past Saturday midnight, a week after a Bhagalpur court issued arrest warrant against him for "inciting communal violence" in the district, police said.
Shashwat, who had contested the last assembly election from Bhagalpur constituency, however, claimed he had surrendered before the police.
Bihar police chief K S Dwivedi said Shashwat was tracked from Ara as he was making his way to the famous Mahavir Mandir in the heart of the state capital.
Policemen were deployed in the vicinity of the temple to arrest him, he added.
"After getting information about his whereabouts, we begun surveillance. Bhagalpur police were also here (in Patna) with an arrest warrant," Dwivedi said.
According to police, Shashwat had taken out a procession without prior permission to mark the Hindu New Year in Bhagalpur on March 17. Participants raised provocative slogans that led to Hindu-Muslim clashes in the town in which several people, including two policemen, were injured.
Bhagalpur Additional District Judge-4, Kumud Ranjan had rejected Shashwat's anticipatory bail petition on Saturday evening. He had moved the court after an arrest warrant was issued against him and eight others on March 24.
After rejection of the bail plea, police sought an order for attachment of Shashwat's property to exert pressure on him to surrender.
Chief minister Nitish Kumar was under intense pressure to act against Shashwat, a BJP leader, as several districts in the state witnessed a series of communal flare-ups since the Bhagalpur incident.
Read | Union minister accuses RJD, Congress of trying to flare up riots in Bihar
Soon after the arrest, Shashwat was taken to Patna's Gandhi Maidan police station where he was kept at the SHO's chamber. Later he was whisked away to Bhagalpur by road for production before the court.
On Sunday morning, the court remanded him to 14 days of judicial custody.
Calling the FIR against him false and fabricated, Shashwat said he would approach higher courts for justice.
"I have surrendered. I will soon approach higher courts for justice. The FIR against me is totally fake," he said.
Shashwat had earlier refused to surrender saying he was not a fugitive.
Shashwat's wife Vijeta Roy denied having any pressure from the government on her husband and reiterated that her husband's innocence would be proved.
The FIR was lodged against him and eight others with the Bhagalpur's Nathnagar police station.
Close